Country's first mobile opertator who has initiated the era of purchasing premium smartphones at EMI, Reliance Communication, teased with tweet that it has now added two more premium smartphones Nokia Lumia 1520 and Nokia Lumia 1320 to its Zero Plan basket.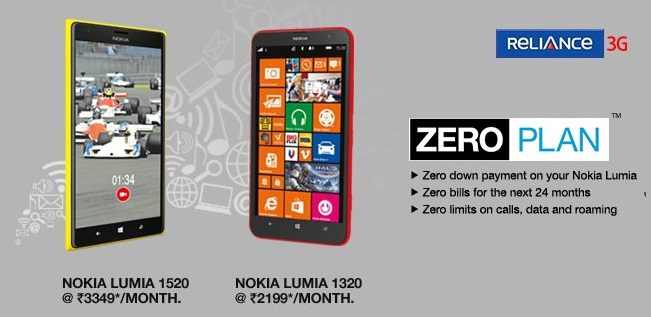 The Nokia Lumia 1520 smartphone, which is available in Indian market in the starting price range of Rs 42185 is being offered by Reliance at EMI of Rs 3349 for a period of 24 months, totaling Rs 80376. The difference between market price and EMI offer is Rs 38191 which comes approx Rs 1591 per month for the services which you get in Zero Plan i.e. unlimited voice calling, messaging, roaming and data usage for 24 months from Reliance Communications. A moderate customer hardly consumes all these services worth Rs 900 in a month.
Similarly Nokia Lumia 1320 Smartphone is on sale in Indian market for price tag starting Rs 20897 but you can get it from Reliance for an EMI of Rs 2199 for 24 months or Rs 3152 for 12 months only. If again you do maths again for this model, you will find almost same results. Rs 1328 per month for freebies offered by RCOM for 24 month EMI Zero Plan scheme and Rs 1410 for 12 month EMI Zero Plan scheme.
For more details on Zero Plan and features of these premium smartphones, please click here.
Category: Data Usage, Mobile Phones
I have always been a fan of writing and love to share information on latest technologies, mobiles, gadgets and social media. Sharing and acquiring knowledge is a boon, do let's share as well as acquire it. I am very much fond of Coffee.