On 12th April 2013, HTC is releasing its facebooked smartphone "HTC first" on USA's AT&T's 4G network for $99.99, debuting Facebook Home, a new full-fledged apps which override on Android Operating  System of your Android phone.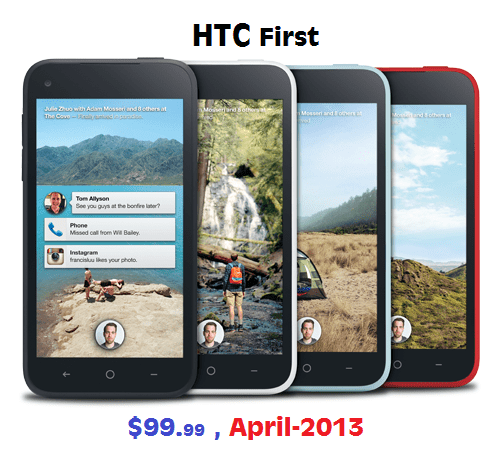 HTC first was introduced last week and it is also rumored that HTC will also introduce HTC first without Facebook Home version and probably this version will be called HTC M4.
The HTC first have awesome specifications like, it has a 4.3-inch 720p screen running on Android 4.1  Jelly Bean Operating System with  a 1.4 GHz dual-core Qualcomm Snapdragon 400 processor, 16GB of internal storage and 1GB of RAM. It has main camera of 5 megapixels and front camera of 1.6 megapixels. It works 2G, 3G and 4G LTE  GSM network.  It has a big 2000 mAh battery for a longer uninterrupted usage. The HTC first is having HTC's proprietary Sense 4.1
The main attraction of the HTC first is its software "Facebook Home" which feels like a social layer on top of Android. It displays photos and stories from your News Feed full-screen on your device, complete with a mild panning effect. You just need to double tap to "Like" a post, single tap on the comment icon to add a comment or long press to enlarge the post
The screen have your own photo encircled at the bottom of the screen and meshing your encircled face, give you three options:  Apps, Messenger, and your most-recently used app.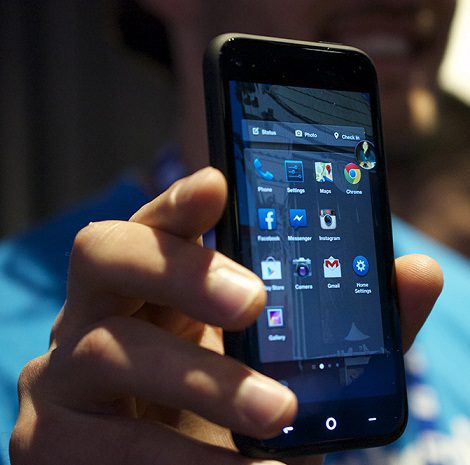 HTC First has pre-loaded Facebook Home as the default launcher but those who don't want to access facebook regularly, may disable it in Settings or uninstall it anytime. You just have to tap "turn off facebook home" in facebook home settings.
HTC first without facebook Home application, HTC M4 supposed to have almost same specs as its facebook home version but with HTC Sense 5.0. The HTC M4 may come with a 4.3 inch 1280x720pixel resolution screen, running on Android Jelly Bean 4.2.2 Operating System and having 1.2 GHz Snapdragon 400 dual core Processor, 1GB RAM, 16 GB internal memory. HTC M4 will have Sense 5.0 and two cameras, Rear camera uses proprietary HTC UltaPixel camera technology, which is believed to be approximately 4 megapixels and Front camera has 2.1-megapixel sensor. Both cameras record 1080p HD video.
Last week Facebook Home application was unveiled for smartphone only but it is believed that Facebook Home app will also work on tablet which has resolution up to 1280×768 pixels.
If anyone don't want to buy HTC first just for the sake of Facebook Home application, they can download the facebook home apps for select models of HTC and Samsung from 12th April-2013.
Category: Gadgets, Mobile Phones
I am tehnocrate and love to share my views and technical knowledge on all types of topics related to telecom, social media and gadgets. I just love tea and food.