There are two most popular applications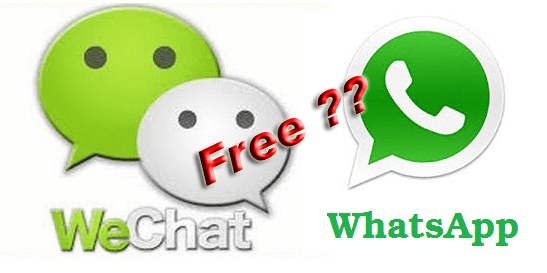 WhatsApp and WeChat for smartphone users for sending text messages, pictures, and video messages etc, the WeChat also facilitate to send audio notes. You also love to send messages, pictures and even videos by using WhatsApp or WeChat on your smartphone considering these applications are absolutely free but it is not like that and use of these applications costs you.
Although downloading these applications is free but their use is not free, your mobile operator is charging for the data usage used by these applications. How much data it uses, this has been experimented and results shows that using these apps are not absolutely free but it cost much less as compared to cost of sending SMS or MMS.
If you connect your smartphone to Wi-Fi of your ADSL at your home or office, then data used by these apps will be of ADSL rather than data of your smartphone's data plan hence in this case it cost nothing to you.
Let us see how much it cost you for using these apps if you use yours smartphone's data plan.
These applications continuously communicate with their server and roughly do this communications 4 times in every hour and on each communication, it consumes approx 1KB data of your data plan. So in one day it communicate 4×24=92 times and it consumes approx 92KB per day or 92KBx30 days=2760KB=2.7MB per month.
Now if you send a 100 characters text message by using these apps, this text message consumes approx 1KB of data of your data package. Suppose you send 500 text messages in one month then it consume 500KB of data. Here it must also be noted the receiving of text message also consume data and also cost to receiver so if you also receive 300 text messages through these apps then it consume 300KB data. Hence by sending 500 text messages and receiving 300 text messages, your 800KB (0.8MB) data will be exhausted.
If you also send 100 pictures of average sizes 50KB each then it consumes 5000KB=5MB data per month.
So in the above example, total data of 2.7MB+0.8MB+5MB=8.5MB data will be used. If you are using unlimited data plan on your smartphone, it makes no difference but if you have to pay for additional data usage, then in India, additional data are being charges approx Rs 2 per MB, so using these apps cost you Rs 17 per month.
If you are using these apps during roaming, then data charges will also be as per roaming plan, some mobile operators charges nothing extra like BSNL while other mobile operators charges extra during roaming.
WhatsApp is free for first one year only and then you need to pay per year. For iPhone, it charges $0.99 per year and for all other smartphones it is $1.99 per year.
WeChat is totally free for any types of smartphones.
Category: Applications, Telecom Gyaan
I am tehnocrate and love to share my views and technical knowledge on all types of topics related to telecom, social media and gadgets. I just love tea and food.