Have you seen the latest ad campaign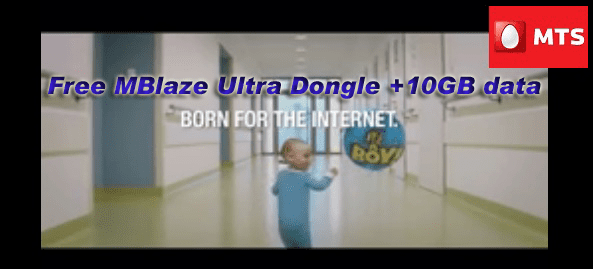 of MTS on your TV, a baby come out in this world without help of doctor and nurses and do lot of activities in labour room right from his birth. He himself takes tablet from near standing male nurse and searches for 'how to cut the umbilical cord' and then cuts it.
The baby then takes a selfie with the nurse on nurse's smartphone and posts it to Instagram, creates accounts on multiple social networking sites and broadcasts himself, makes a video and even uses the GPS system to navigate out of the hospital.
Finally, the baby walks out of the clinic and the receptionist already watching a video of the baby on YouTube. As the baby walks out, supers appear on screen saying, "Born for the internet. MTS 3GPlus Network."
On the 5th Anniversary celebration, MTS is offering Free MBlaze Ultra dongle bundled with 10GB worth Rs 1499 to all parents of all babies born on 26th March, 2014 and this offer is valid across all 9 circles.
The offer is open from 26th March to 16th April, 2014
To claim the offer, parents just need to do followings only
Register on the MTS India website.
Visit the MTS branded retail store with requisite documents as mentioned below
Child's birth certificate issued by Municipal Authority mentioning the names of parents (2 copies).
Proof of Identity and Address of the parent who is claiming the Gift.
Duly filled Customer Acquisition Form (CAF) along with photograph of the parent.
Offer Form duly filled and signed by the claimant (2 copies)
Source: MTS India
Category: Data Usage
I have always been a fan of writing and love to share information on latest technologies, mobiles, gadgets and social media. Sharing and acquiring knowledge is a boon, do let's share as well as acquire it. I am very much fond of Coffee.