MTS India, which operates on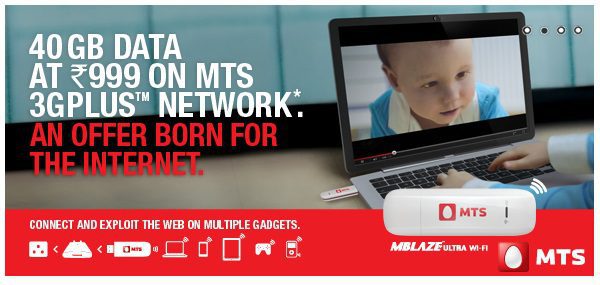 CDMA technology in 9 telecom circles in India and offers data services on 3G Plus network,  today announced the roll out of the most aggressive data plans in the country to target the high-data users. 3G Plus network is the trademark representing advanced high speed EV-DO Rev B network of MTS.
MTS India launches Super Unlimited data plans for postpaid as well as prepaid customers in its all 9 telecom circles Delhi, Rajasthan, Gujarat, Karnataka, Kerala, Tamil Nadu, UP West, West Bengal & Kolkata.
The Postpaid MBlaze customers can opt for a monthly rental plan of Rs 999 to get an unprecedented 40 GB unlimited data; an incremental benefit of at least 300% from existing plans.The Prepaid customers on the other hand gets 20GB for a recharge of  Rs 999 with a validity of 30 days. The prepaid customers have two more options, they can opt for 25GB data plan for Rs 1298 or 30GB data plan for Rs 1498.
Here are the latest data plan from MTS India.

On MTS's 3G Plus network, you will get download speed of 9.8Mbps up to data threshold as shown in above table but as soon as this data usage threshold exceeds, the download speed throttles to 144Kbps or 64Kbps
If we look around, no other operator in India, either on GSM, CDMA or Landline offers such high usage data plan at affordable price. The speed of 3G Plus is awesome, it offers download speed up to 9.8 Mbps while in 3G network, practically you get speed around 2-3Mbps in spite of whether you use 3.6 Mbps data card (dongle) or 7.2Mbps or 21.1Mbps.
 Source: MTS India
Category: Data Usage
I have always been a fan of writing and love to share information on latest technologies, mobiles, gadgets and social media. Sharing and acquiring knowledge is a boon, do let's share as well as acquire it. I am very much fond of Coffee.