Data savvy customer may find MTS India's latest move of reducing its dongle price and plan rates as boon for them because now they can have cheapest solutions for their Internet use.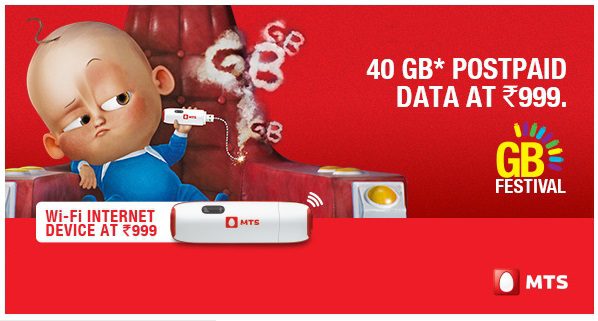 MTS India has just reduced the price of its MBlaze Ultra WiFi dongle from Rs 1499 to Rs 999 only, making it almost 33% cheaper. The WiFi dongle is used to connect max 5 devices in the range of 10 meters
The price of preloaded 10GB free data, MBlaze Ultra WiFi dongle, have also been reduced from Rs 2299 to Rs 1749, making it 24% cheaper.
As part of its GB festival, MTS has also introduced a wide range of monthly usage plans, as per customer needs, as follows
Prepaid Monthly Data Plans
20 GB at Rs 999
7 GB at Rs 699
5 GB at Rs 499
3 GB at Rs 399
Postpaid Monthly data plan
40 GB at Rs 999
14 GB at Rs 700
10 GB at Rs 550
Note: In the data plans of 10GB, 14GB, 20GB and 40GB, half of data is to be used in night from 12:00 Hrs midnight to 8:00 AM
All the above rates and plans are available in all 9 telecom circles of MTS's operations, viz Delhi, Rajasthan, Gujarat, Karnataka, Kerala, Tamil Nadu, Kolkata, West Bengal and UP West.
Category: Data Usage
I have always been a fan of writing and love to share information on latest technologies, mobiles, gadgets and social media. Sharing and acquiring knowledge is a boon, do let's share as well as acquire it. I am very much fond of Coffee.