What BSNL is having, now government owned second telecom PSU, MTNL has announced few schemes for its customers in two metros, Delhi and Mumbai on the occasion of #Good Governance Day celebrations.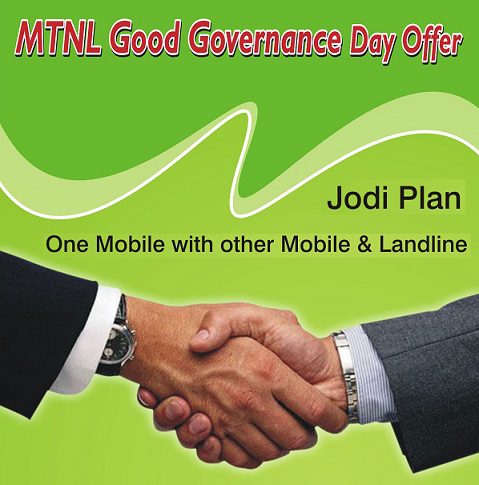 MTNL Jodi Plan
On the line of BSNL's Pyari Jodi plan, MTNL announced "MTNL Jodi Plan" for its prepaid subscribers. The Jodi plan can be activated by FRC of  Rs 44 which also add talk value of Rs 30 and has validity of 365 days. The FRC The prepaid customer can choose two more numbers, one mobile and  one  landline number of MTNL of same metro on which they can make calls at reduced rate of 20p/min. Calling to numbers of other  network will be a little bit costly, Local call @40p/min and STD calls @50p/min. On activation of the plan, prepaid subscribers will also get freebies of 100 minutes for making local calls to MTNL network and 200MB 3G data for the first month. For more details, click here
MTNL Broadband one month FMC wavier
As per system prevailing in small carriers in America, MTNL has also announced scheme of waiver of one month fixed monthly charges (FMC) (up to Rs 999) for new broadband connections. This scheme is available from 25th December 2014 (Good Governance Day) and 26th January 2015(Republic Day).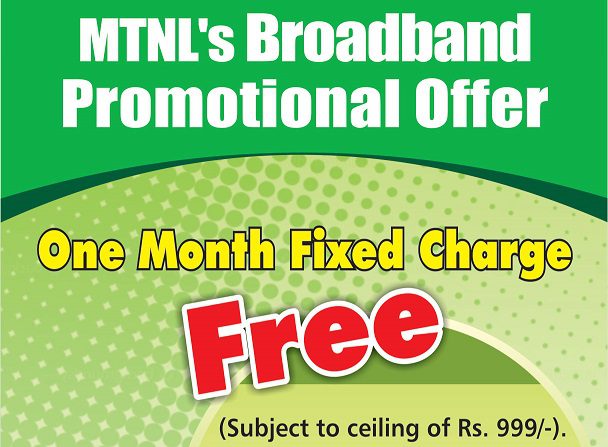 MTNL App
Copying BSNL app, MTNL has also launched its own dedicated mobile application called MTNL App. The App has same feature as BSNL app have, such as booking a new connection, file complaints, view bills and make online bill payments. The app can be downloaded from Google PlayStore.
This new schemes would help MTNL revive its customer base by attracting more users to its network.