If you are going to buy gadgets (Smartphone,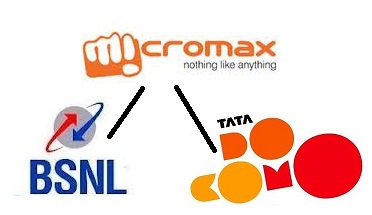 tablet or data card) made by Micromax, you are quite lucky to enjoy free data usage for six to twelve months.
Micromax has entered in partnership with BSNL and Tata DoCoMo for reverse bundling scheme under which every Micromax gadget buyer is entitled for freebies from mobile operator either from BSNL or Tata DoCoMo.
BSNL offers 2GB of 3G free data and 500 free minutes of talk time per quarter for 12 months to every Micromax Gadget buyer. To avail these freebies, customer have to buys a plan voucher of Rs 153 with purchase of Mircromax gadget. This offer will come in effect from July 1, 2014 and will be available for next 6 months.
The details of BSNL offer is shown as below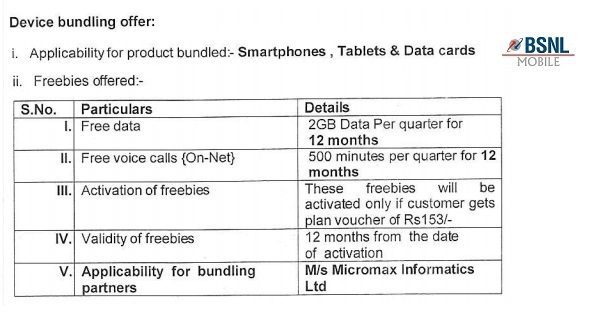 This offer will be applicable for following select devices
Smartphones model: X-88[Approx Price=Rs 1013], A-37 [Approx Price=Rs 3298] and A-37B[Approx Price=Rs 4700]

Tablets

: Micromax Funbook P-410-I [Approx Price=Rs 7699]
Data card model MMX-377G [Approx Price=Rs 1215]
Details of Tata DoCoMo offer
Tata DoCoMo  is also offering freebies to every Micromax gadget buyer, it offers 2GB of free data on first recharge for first month and 1GB of free data per month for next five months.
At present, Tata DoCoMo offers 3GB free data with 30 days validity on all Micromax 3G smartphones. It also has two special recharge coupons of Rs 91 which allows 500MB and Rs 255 for 1.5GB data usage. Click here for details.
Category: Data Usage, Gadgets
I have always been a fan of writing and love to share information on latest technologies, mobiles, gadgets and social media. Sharing and acquiring knowledge is a boon, do let's share as well as acquire it. I am very much fond of Coffee.