Reliance and Airtel, as announced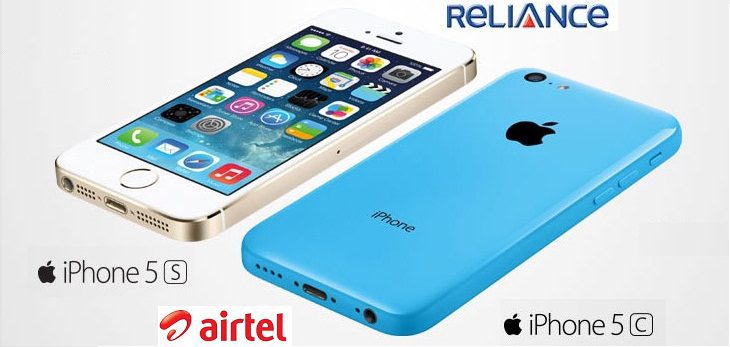 just two week ago, have come out with attractive plans to own these high profile smartphones. Airtel has offered discount in rentals while the Reliance has launched contract plans,  first time in India, such contract plans are more popular in US, UK and other developed countries.
Airtel offered the iPhones at the MRP, as announced by Apple, with 50% discount in rental of their special plans viz. iPhone 5C is offered at MRP of Rs 41900 and if buyer opt a postpaid special plan of Rs 2000, then the user have to pay only 50% of the rental i.e. Rs 1000 and in this price Airtel is offering 3GB of 3G data, 1500 min of local call free and 600 free SMS per month.
Reliance launched the contract plans bundled with freebies in the form of unlimited voice calls, SMS and 3G data. The contract plan has lock-in period of two years, with penalties clauses for breach of contract. The contract plan will be offered to customers who has credit card only and their verification will be done by concerned bank including ICICI Bank and  HDFC.
Reliance is offering iPhone 5C and 5S with zero down payment while other models of higher storage, 32GB and 64GB are offered at down payment of 15% to 25% of the cost of iPhone and rest amount in 24 installment as tabulated below.
If a customer takes iPhone 5C from Airtel, he would have to pay Rs 41900, full cost of the device at one go and if he also opt the highest plan at discounted monthly rent of Rs 1000, then he would pay Rs 24000 for plan opted in two year and total amount in two year would be Rs 65900 in comparison to total cost, if he would have gone for Reliance offer, Rs 62376.
Reliance is also offering free unlimited voice calls on any network in comparison to Airtel's 1500 free local calls, Reliance offers 3000 SMS in comparison to Airtel's 600 SMS and also Reliance offers true unlimited data usage at 3G speed without FUP while Airtel plan offers 3GB of data only.
Looking at these Reliance wins the offer.
Category: Call Rates, Data Usage, Mobile Phones
I have always been a fan of writing and love to share information on latest technologies, mobiles, gadgets and social media. Sharing and acquiring knowledge is a boon, do let's share as well as acquire it. I am very much fond of Coffee.