US's third largest carrier, Sprint once again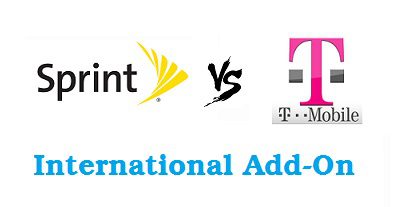 tried to copy tariff plans of T-Mobile and in its newest attempt, Sprint has introduced $15 International Connect add-on for customers under Framily Plans. This $15 add-on allows customers to make unlimited voice calls to landline numbers in over 60 countries (including Canada and Mexico), and mobile phones numbers in 35 countries (including the UK, India, Canada, Germany, and Venezuela).
Customers are also allowed to send unlimited text messages to over 180 countries.
For those customers, with occasional international calling needs, Sprint's $5 International Long Distance Premier add-on offers discounted international pricing calls from the U.S. to over 220 countries. Customers can call landlines and mobile numbers in Canada for $.01 per minute only while calls made to landline in Mexico costs $0.1 /min and calls to a mobile number in Mexico costs $.04/min. Customers can also take advantage of significantly lower rates in other popular countries as well.
Now let us compare it with T-Mobile's International plans, T-Mobile offers International plans free of cost to Simple Choice customers. International plan is automatically included in the plan. Customers are allowed to send unlimited text messages from US to virtually anywhere in the world at no extra cost. Customers can also enjoy unlimited while traveling to 120+ countries and destinations.
T-Mobile has two International add-ons for its prepaid customers, one costs $10 and other costs $15. The International add-on of $10 allows customers to make unlimited voice calls from US to landlines numbers in more than 70 countries and calling to a mobile numbers in 100+ countries for just $0.20/minute.
The $15 International add-on allows customers can now make voice calls on their friends and family 's mobile numbers in more than 30 countries and also unlimited calling to landlines in 70+ countries. This add-on allow offer freebies of 1000 mobile-to-mobile minutes to Mexico and discounted calling rates to the rest of the world.
Category: World Telecom
I have always been a fan of writing and love to share information on latest technologies, mobiles, gadgets and social media. Sharing and acquiring knowledge is a boon, do let's share as well as acquire it. I am very much fond of Coffee.