After slashing 2G and 3G mobile data tariffs, many operators offers now 1GB 3G data at the price of as low as Rs 124, now almost all Indian telecom operators are offering 3G dongles just free of cost with their data plans or are offering dongles at very competitive rates.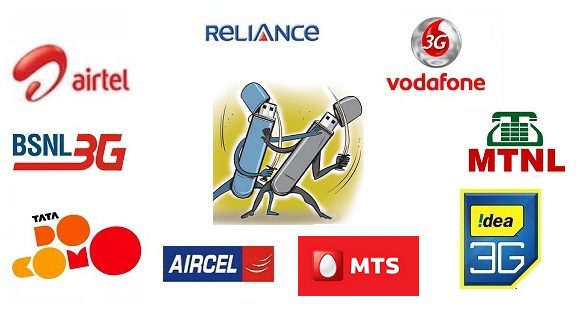 BSNL is the operator which offers 3.6Mbps dongle free of cost if customer buy its longer validity prepaid data plan vouchers of Rs 3299. BSNL is also offering hi-speed 3G dongle of 14.4Mbps speed at the price of Rs 700 only with its DPV of Rs 3299.
Recently Vodafone come out with new 3G dongle K4201 at the price of Rs. 999 only for its postpaid customers however the dongle is priced at Rs 1500. This 3G dognle supports download speeds of 21.1Mbps and upload speed of 5.76 Mbps.
Idea Cellular is also offering 3G dongle which supports download speed of 21.6 Mbps for the price of Rs 2166
MTS also have launched its new MBlaze Ultra dongle for Rs 1299, the dongle supports 3G plus network and offers download speed up to 9.8Mbps. The company is offering it with bundled data plan of 10GB for Rs 1399, customer had to consume 10GB data in its validity period of 30 days. For postpaid customers, the dongle costs just Rs 750 with the option of complete cash back.
Tata DoCoMo's dongle series Photon starts from Rs 1299 and its 3G+ dongle supporting 21.1 Mbps download speed comes for Rs 1750 only.
RCOM offer 3G dongle of 21.6Mbps speed at the price of Rs 1999 while Airtel offer similar dongle at Rs 1400 only. Airtel also offer its 4G dongle at Rs 1500 which can also be used with 3G SIM.
Aircel offers 3G dongle at price of Rs 1777 bundled with 6GB free data usage worth Rs 1009. The dongle offers download speed of 7.2Mbps and upload speed of 5.76Mbps. In one other scheme, Aircel offers Micromax 3G dongle model MMX 352G for Rs 1799 and with purchase of this dongle, company offers 6GB data plan voucher for just Rs 395 only.
MTNL, Delhi offers 3G dongle for Rs 1200 only with bundled free data usage of 15GB within 30 days validity while MTNL , Mumbai offer same dongle for Rs 1299 with free data of 4GB per months for two months only.
With low 3G tariffs, data usage increases and accordingly the sale of dongles is also boosted but the real threat to dongle sale is Tablets, since now tablets are coming with feature of 3G SIM slot and for these tablets, 3G dongle is not required, either 3G SIM can directly be pushed into Tablet.
Have you discovered, who is offering you 3G dongle at cheapest price ?
Category: Data Usage
I have always been a fan of writing and love to share information on latest technologies, mobiles, gadgets and social media. Sharing and acquiring knowledge is a boon, do let's share as well as acquire it. I am very much fond of Coffee.