In the previous post How to unlock Teracom 3G datacard (dongle) we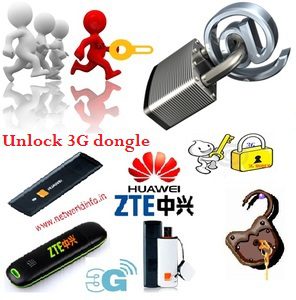 have seen that how the customers are being lured to go for promotional offers of mobile operators and they buy 3G data cards at reduced prices with some freebies offered by mobile operator. When some customers find services or tariffs of present mobile operators unsatisfactory they are in  search of alternatives but they can't use  the dongle until they unlock it so that it can be used with other SIM of other mobile operators. In previous post, we have seen how to unlock Teracom dongles but many operators provides dongles of Huawei, ZTE, NEC, LG,  Nokia etc so in this post we look how to unlock dongles of these makes. To unlock you just need IMEI of your dongle which can be found on the packing box or from the dongle menu, or written on dongle itself.
To unlock these dongles, just follow the following steps.
If you search web, you may find many sites which explains how to unlock dongles, but here you will find complete tutorial without any doubt and skipping any step.
Step-1:  Just search on the web "Universal Master Code Software" and then download it on your PC.
Step-2: Now open it, after download. It  doesn't required any installation.

Step-3: Now enter IMET number of your dongle and hit the Calculate button, it will give you UNLOCK code and FLASH code, note down these codes.
Step-4: Now run the "CardLock UnLock" software you downloaded (screenshot below) and then type in the Unlock Code when you just noted down. Press OK and wait for the "Unlocked Successfully" message.
Step-5: Now jack out the dongle from the USB port and change the SIM with new one and again insert the dongle in USB port. It will ask to enter either UNLOCK code or FLASH code, accordingly enter the code and try to connect Internet with new APN setting of your new mobile operator.
The above software will work and in case you find any difficulty, we may try another procedure as below
One more software is also available on the web. To download the software from Skydrive pl click here
Download Huawei unlocker from the following link and enter IMEI code of your dongle as shown below  and then hit the Calculate code. In the left side window, you will get Unlock and Flash codes, note down these codes.

Now run the "CardLock UnLock"  file and then enter  Unlock Code as noted in above step and then hit OK button and then wait for the "Unlocked Successfully" message.
Now to make datacard ready for other SIMs, run the installer software "Mobile Partner". The software will search and detect your datacard. Then, go through the Steps carefully and wait for the process to complete.
That's it!
Now open the Mobile Partner software and you will be able to use the 3G datacard with any SIM of any mobile operator.
Category: How to, Telecom Gyaan
I have always been a fan of writing and love to share information on latest technologies, mobiles, gadgets and social media. Sharing and acquiring knowledge is a boon, do let's share as well as acquire it. I am very much fond of Coffee.