Gmail has launched "Send SMS" service through Gmail in India recently however this service was operational in many countries since long  and now we can enjoy sending free SMS through our Gmail account but with a cap of 50 SMS per contact number on daily basis.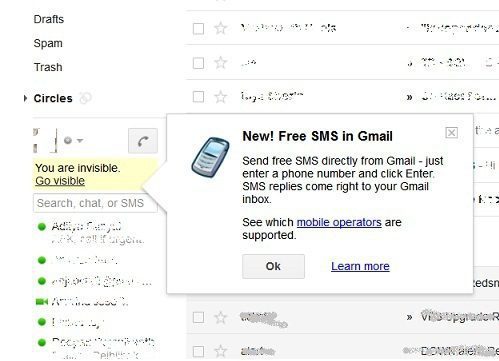 Gmail's "Send SMS"service is supported by all mobile operators in India. The best part of this service is that recipient of SMS, i.e. your friend can also send you reply SMS just by pressing reply from his message box. This feature of replying the SMS is making this service different from most of the online free SMS service of most popular sites like http://www.way2sms.com etc.
How to send and receive free SMS through Gmail, just follow following steps.
Step-1. After logging in the Gmail account, enable the SMS (text messaging) in Chat lab which is located in the chat setting menu.
Step-2. Now enter contact name of your friends in the 'Search or invite friends' box in Chat, in the Chat section which is in the left side of screen. If mobile number of your friend is not there, then enter the mobile number and save the changes
Step-3. After that, select Send SMS from the box of options that appears to the right of your contact's name. Or, if you already have a Chat window open for this contact, just click Options, and select Send SMS
Step-4. Now type your message as you would normally. When you hit Enter, the message will be sent to the phone number you entered
The recipient, i.e. your friend will receive your SMS, and in that SMS, your email ID will be displayed as your signature with a message that "-you may reply". Since your friend will receive this SMS from a unique mobile number so he can reply to this number his message will flash in the chat box of your e-mail.
So now we can enjoy chatting with our friends through our Gmail account with their mobile phones.
Category: How to
I am tehnocrate and love to share my views and technical knowledge on all types of topics related to telecom, social media and gadgets. I just love tea and food. Follow me on