Tablets are great device for content utilisation with some easiness for content creation on the move, at least better than smart phone but, smart phones are more portable than tablets.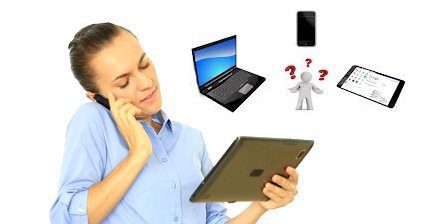 Creation of content by smart phones is quit cumbersome and irritating to habitual users. A tablet provides some relief to this work on the move. If it is still irritation to habitual users, then both smart phone and tablet are not for them, they must shift to smart notebook. This shift will be at the cost of some portability. Nowadays only smart devices will only survive in the market. The heavy weight, desktops and laptops are pushed back because they are not smart despite more powerful than smart devices.
Future of tablet is not sure and they may vanish from market like netbook in time to come. No new netbook is coming to market and production of netbooks has already been stopped. Tablets are most affected due to competition faced from smart phones and smart notebook which are becoming more and, more smart every day due to heavy investment and demand for mobile computing. Both popular tablet design of 7 inches and 9.7 inches are going to suffer badly due to smartness of competitive device from both end. 7 inch design is hit by smart phone and 9.7 inch design by smart notebook. Tablets may find birth around 8 inches; say from 7.7 inches to 8.3 inches in future. This is most convenient design for tablets expected to hit the market at reasonable prices.             
Tablets of 7 inches are more portable but more scrolling is required especially in book reading and net surfing which creates irritation quit often to habitual users. Smart phones have touched up to 6.3 inches and still there is some margin left and may go up to 6.7 inches in future, so tablet of 7 inches has no future now. This design is going to be merged with higher size smart phones. Tablet of 9.7 inches is more convenient to use and very less scrolling is required but are not much portable. If you want to give up portability, give it up in a better way. Buy smart notebook, they are more powerful than tablets and portable as good as tablets.
Cheaper tablets from Indian companies are being launched frequently. They have near to International quality at Indian price with one year warranty. The products of multinational companies are not reasonable nowadays unless they drop the prices in competition with Indian companies as we are not going to use much international facilities available in such products. Why to pay for such facilities. High priced products launched by such companies like Samsung, Apple, Asus, LG, Acer etc are very good products to carry in hand but Indian products are also useful and as good as International brand. They are bound to give service for one year during warranty and we are not going to use these products after one year of use due to wear and tear. The Haswell processors are going to be launched by Intel in June-2013 and better products will be available in fourth quarter. I do not agree with the price policy of International Brand, it is discounted heavily after a year of launch in most cases. Why to think of buying a badly priced product which is used by one person and watched by hundred persons. A product could be classified as good product if it is used by all 101 persons.             
An eight inches tablet (7.7 inches to 8.3 inches) is very convenient to use, they are available/have started arriving in two aspect ratio-4:3 or 16:9/16:10/17:10. A tablet in 4:3 aspect ratio is very good for reading books and surfing net. The tablets in other aspect ratio are very good for multimedia use and are slightly taller but shorter than 4:3 tablets.
If you are inclined to reading more, prefer 4:3 tablet and for multimedia use, prefer other aspect ratio. Select lower side of eight inches for 4:3 tablets and upper side of eight inches for other tablets.
A 1.5 Ghz dual core processor with 1GB RAM, TFT display with 1024×768 resolution/4:3 aspect ratio and 1024×600 resolution/17:10 aspect ratio, more than 4500 mAH battery are good enough for day to day use. Tablets with 1280×800 resolution (16:10) or 1280×720 resolution (16:9) are also expected to be launched with quad core processor and bigger battery of 7000 mAH at extra price. Tablets with high resolution display of 2048×1536 (4:3) and 2560×1600 (16:10) are also available for enthusiastic use such as gaming, multimedia, etc. As a thumb rule, more resolution means more information could be displayed. It is advantage for multimedia but characters will get shorter, you have to increase the font size to read conveniently. Increase of font size after limit would create distortion. The tablets with resolution of 1024×768 and 1024×600 are great for reading.            
SIM based and without SIM based tablets are also available. N-type Wifi is must for both models. A Tablet could be paired with 3G/wifi-basic phones or with 3G/wifi-portable battery based router for better battery use on the move. 3G-SIM based devices consume more power, so hour of operation would be less on the move. Select models as per your needs but keep a separate 2G-basic phone free from all connectivity for your e-commerce use as you do not get one time password on SMS if device is engaged for some other activity.
The cheapest and good computing solution is a basic mobile phone (priced less than Rs 5000) plus 8-inches tablet (Approx priced at Rs 10000) plus traditional laptop-15.4 inches (Good laptop could be purchased around price of Rs 35000). If you are Linux user like me, you may save another Rs 10000 on laptop hardware and software. You do not need more than this in practical life; all other computing solution is value addition over such basic computing. The prices are expected to fall further in future with better technology.
So select your device very judiciously and as per your need.
I have always been a fan of writing and love to share information on latest technologies, mobiles, gadgets and social media. Sharing and acquiring knowledge is a boon, do let's share as well as acquire it. I am very much fond of Coffee.