It is not you, most of us has to share our smartphones with friends and relatives but sometimes it becomes awkward situation when they sneak peek in our social accounts or e-mail or SMS or call logs or gallery etc which we don't like to share these private stuff with anyone of them.
We can't refuse them to play around with our phone and also don't want to unlock our smartphone master password, PIN or pattern lock every time.
To avoid such awkward situations, a very popular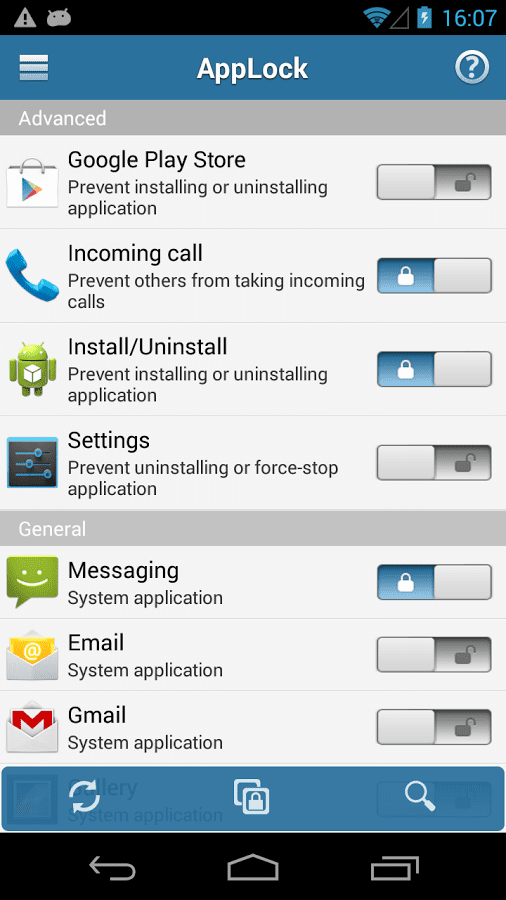 application is available in Google play store, AppLock, This app is developed by DoMobile lab and used by more than 40 millions users in more than 50 countries.
Just download it on your Android smartphone and protect your privacy with just one password for all application installed on your smartphone.
After download, on first launch of app, it ask to set password, just set is as per your convenience.
Now you are at homescreen where you finds all system and apps listed under Advanced, Switch Lock and General tabs. You will find that most of apps which you use frequently are under General tab.
You can lock the any app by just tapping lock button again each application
Some of us also not like that anyone take up the incoming phone calls in your presence or absence so under the Advance tab, you can lock incoming call option. After which whenever you receive incoming call on your phone, first you have to feed password to receive the call.
The app is free and has following other features
• Protects any apps using password or pattern
• Hide your private photos in Photo Vault
• Hide private videos in Video Vault
• Fake cover
• Automatic lock at given time or location
• Lock switch(WiFi,BT,3G/4G Data…)
• Widget for quick locking/unlocking
• Locks incoming or outgoing calls
• Lock system Settings
• Lock Google Play Store
• Quick lock switcher on status bar
• Prevent apps from being uninstalled
• Hide AppLock's icon from launcher
• AppLock can be prevented from being uninstall
• AppLock cannot be killed by task killers
Category: Applications, How to
I have always been a fan of writing and love to share information on latest technologies, mobiles, gadgets and social media. Sharing and acquiring knowledge is a boon, do let's share as well as acquire it. I am very much fond of Coffee.