Android Smartphones are the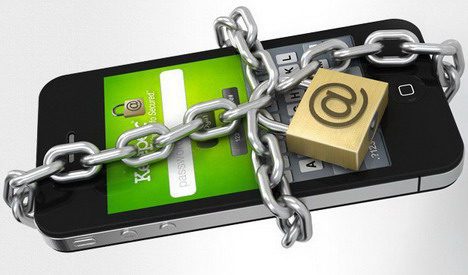 most popular among customers of all age groups. Major reason for its popularity is its flexibility in customization and a large number of third-party apps, available at Google Play store, for every mood of the customer.
Now a days, we also use Smartphones for our financial transactions and store more private data but our smartphones are more vulnerable to security threat, malware or data theft so we need to protect our precious personal data.
Followings 7 tips may help you to secure your precious data on your Android device.
1. Use a screen lock
This is the most basic security measure for your Android device which allows you to guard your device by using a pattern, PIN or password.
You may set the screen lock by tapping Setting icon and then Security settings. After activation of the lock, your Android device gets locked automatically after a specific time period or by pressing the Power key.
2. Encrypt your data
This is another important security measure, you can encrypt all the data on your device with a password or PIN. You'll need to key in this password or PIN each time whenever the device is turned on to decrypt all the data. You can encrypt data in security setting after tapping Setting.
If the phone gets into the wrong hands, there's no way to access the data without a password or PIN if the device is restarted. This way, your sensitive data stays safe.
3. Activate Google's Android Device Manager
With activated Device Manager, you may track your device on Google Maps. This helps when you lose your device or it gets theft. In case of theft, you can ring your device at full volume, even if it is on vibration mode, for five minutes. You can also erase all the data stored on your device.
You can enable/ activate this feature by tapping Setting and then Device Administrators under Security setting.
4. Don't store sensitive data on SD cards
You must avoid storing sensitive information such as copies of credit cards and personal IDs on external storage cards since it is easy to remove them and access the data stored.
If you need to store important information, keep it on internal storage that too under strong password.
5. Don't Use Mobile browser for financial transaction
If you do financial transaction for banking or share market from your smartphone then you must use specified/recommended app from the Bank/ Share broker for banking. Never use mobile browser
6. Don't install apps from unknown sources
You may find your favorite app on Google Play store where from you may download it safely but you must avoid to install app from other sources because such app may install malware or spyware along-with installation of app
7. Install locks for apps
You can use additional protection for apps like Social Media apps (Facebook, Twitter ) Gallery and Messaging app (WhatsApp, Viber etc) to protect private data.
A number of apps are available on Google Play Store that offer an additional level of protection for individual apps. Such apps ask you to set up a password or PIN code that needs to be entered whenever you open the particular protected apps. I use AppLock.
Category: Applications, How to
I have always been a fan of writing and love to share information on latest technologies, mobiles, gadgets and social media. Sharing and acquiring knowledge is a boon, do let's share as well as acquire it. I am very much fond of Coffee.