It is not you who is now a days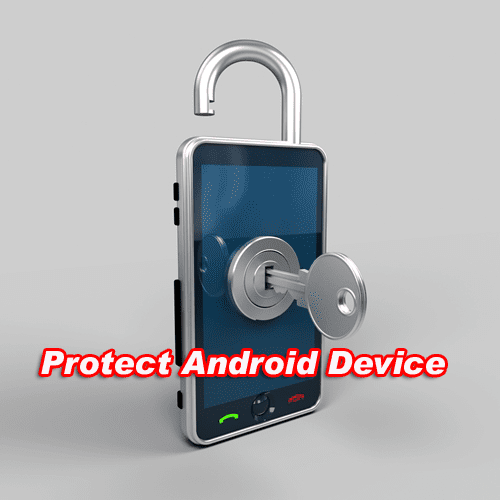 facing problem of hacking or Spyware on your Android device, many others are also suffering. Everyday news publishes regarding hacking, shows that majority of hacks are caused by not taking care of your Android device. Either your device hacked by weak or stolen passwords or your device stolen and thief uses your sensitive data.
You can protect your Android device by following simple security measures.
1. The basic feature of protecting any Android device is screen lock. You must keep screen locked when it is not in use for which you can set the screen lock by setting a powerful password, PIN or pattern. To set screen lock, just tap Setting button on home page of your android device, scroll down and set it. Keep it on auto mode with a specific time so that after this specific time, your device locks automatically.
2. Android device always gives option to encrypt of your valuable data and for decrypting the data, you will need PIN or password. You must keep your data encrypted so that in case your device stolen, no one can use your sensitive data. You may find encryption option in Security Setting of your device.
3. Most of us are in habit of keeping always logged in apps which we use the most like e-mails, social media sites etc so to protect your device, it is better to sign out always after using the e-mail, social media sites.
4. Google Device Manager is one more important application available at Google play store which also keeps your device secure. This app allows you to locate your lost device and also change passwords, lock screen PINs, and even remotely wipe your missing unit. For this you have to your google account in site www.andorid.com/devicemanager. Other details of app may be seen after installing it on your Android device. Just head to Play Store on your device and search device manager and install it.
5. Always download desirable applications from Google play store or app stores otherwise downloading application from unknown source may lead to hack your device. Downloading third party applications may also create problem of Spyware or malware for your device.
6. You must keep your sensitive data like credit card, personnel ID, passwords etc in internal storage of the device, don't keep these sensitive data on SD card because data on SD can be cracked easily even data are encrypted.
7. Rooting of Android device has many advantages, with a rooted android device you can use many handy android apps that can't be used with unrooted android device as well as you can restrict android apps permissions explicitly. Some of us find rooting of Android device a easiest and best way of downloading application or sharing of device but with this rooting, one can easily access your all files/sensitive data of your device. Rooting of device also lead to void of device warranty so you must avoid rooting of Android device.
Category: How to
I have always been a fan of writing and love to share information on latest technologies, mobiles, gadgets and social media. Sharing and acquiring knowledge is a boon, do let's share as well as acquire it. I am very much fond of Coffee.