If your smartphone battery lasts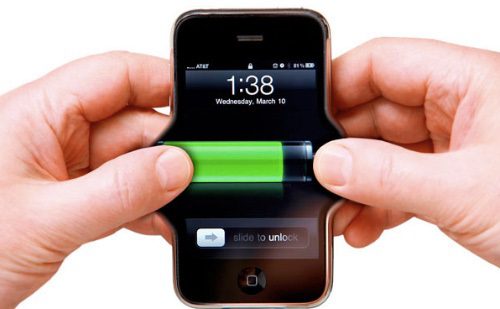 approx 8 hours a day, the quickest way to prolong battery charge for approx 12 hours, is just to turn off the data connection because data connection consumes more battery power.
To do this, you just need to find setting button on home screen, tap it and then select SIM Management and Off the Data connection.
But this is not the right way and it may be suitable for some one who are using smartphones for voice calls or SMS and very little for data usage but smartphones are not meant for merely voice calls or SMS and hence this way of prolonging battery charge may not suite for many of us.
So we look for other ways, by making few changes in phone settings and changes in use pattern to save battery power and extending it by a good chunk.
Tip 1: Dim screen brightness
Your smartphone may be on auto-brightness mode so change it and keep it at such level permanently where you can read comfortably, without straining your eyes. This setting will reduce battery consumption drastically.
Tip 2: Disable unnecessary Notifications
You receive notifications all the time be it for email, social media, messaging apps, update app etc but it may annoying as well as it is a power-sucker for each notifications so review you need and disable unnecessary notifications to save battery.
Tip 3: Disable GPS
Google Maps or Facebook utilizes GPS unit in your smartphone which keep continuously send and receive signals. This activity also consume battery continuously so better disable GPS system
Tip 4: Close Unnecessary Apps
Do you know how many apps are active on your smartphone ? Make it your habit to close or kill the apps which are not in use. It will save your battery and you will wonder now the battery runs for a long time.
Tip 5: Shorten Screen Timeout
After you finish conversation, keep the screen timeout shortest, this will also minimize the power consumption and phone will not waste power when not in use.
Tip 6: Use Sleep mode when Inactive
Some of us keep phone switch off in nights or when not in use for an extended period of time but I don't like it because the caller may not be aware about your this habit and you may miss important calls so it is better to keep the phone switched on always and you may keep it on sleep or inactive mode to save the battery power.
Tip 7: Charge Your Battery Correctly
Most of our smartphone comes with Lithium-ion (Li-Ion) battery and your charging strategy affects the battery life. Make it practice to charge the battery when it is about to last.
Tip 8: Turn Off Vibrations
Keeping your smartphone on Vibrations as well as ringtone mode always consume more power. Better to use vibration mode in great dire need otherwise silent mode is more battery saving mode. A short ringtone may be used as notification for incoming calls.
Tip 9: Avoid animated wallpapers
Keep simple wallpaper on your smartphone, animated wallpapers may be beautiful but are the biggest enemy of your battery. As saying Beauty is not cheap !
Tip 10: Turn off location and Bluetooth
Keeping always ON location and Bluetooth leads to drain more battery so better to turn off these two features when not in dire need.
Tip 11: Power Saving Mode
Most smartphones comes with power saving mode which you can turn on manually. You may find this option under Power or Battery section of settings.
Tip 12: Turn Off WiFi when not used
Wherever you find Wi-Fi signal reception whether at home or office, prefer it over cellular data because using Wi-Fi saves your smartphone's battery a lot. Logic behind it is that in Wi-Fi area, you find constant signals but for cellular data, your smartphone constantly search for data signal and doing this, phone consumes more power. Keep Wi-Fi feature off is you are not using it or not have access to a Wi-Fi network
If you don't feel comfortable to follow above tips, then you also have a huge choice of portable USB battery packs, which you can use to give your smartphone's battery a recharge on the go. Plus, if you have a popular handset, you may find there are specific cases which incorporate batteries to give you extra power at the expense of only a little more bulk and weight.
In next post, we will see some apps which ease your efforts to save battery
Category: How to
I have always been a fan of writing and love to share information on latest technologies, mobiles, gadgets and social media. Sharing and acquiring knowledge is a boon, do let's share as well as acquire it. I am very much fond of Coffee.