Every mobile operator is hiking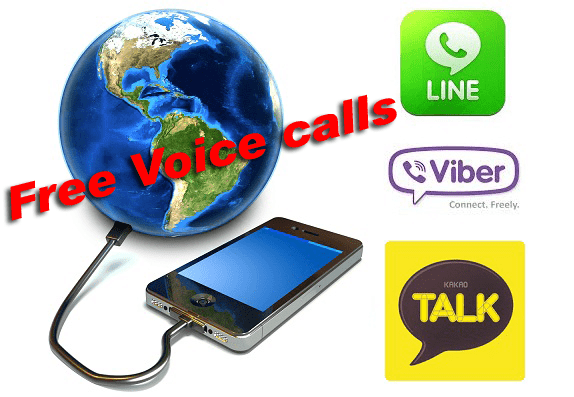 tariffs of voice calls and making heavy callers uneasy.
But smartphone is now so much popular and affordable that everyone is using smartphone and they can slash their monthly telephone bills by using some awesome apps on their smartphone.
You may try following apps that are available free of cost to download and by using it you can make free voice calls. You just need to install the apps and make sure that your counter part friend must also have the same apps then both of you can make unlimited voice call, whether it is a local call, STD call or International call. These apps just check, whether your friend at other end, have installed the same app or not.
All these apps are absolutely free and can be used any smartphone of Android, iPhone, blackberry and windows phone.
You must be aware that use of any app consume your data usage so it is better, these apps must be used on an unlimited mobile data plan.
LINE: This is most recent apps and is used by more than 200 millions users worldwide. This is the most famous apps used in 231 countries and also ranked no 1 in free apps in 47 countries based on its popularity. With this app you can make free voice calls, share photos and videos. You can express your mood by choosing funky sticker out of 8000 stickers. To make voice calls both handset must have LINE apps but if your device doesn't support LINE voice call feature, you can use LINE from the PC to make those calls.
The app has in-built game that can be played with other LINE user.
For more details, Click here
Viber: Viber is another most popular apps and is being used by more than 200 million users worldwide. With Viber apps you can send text messages, make free voice call, and send photos and video messages using 3G or Wi-fi. Viber is available for Android, iPhone, Blackberry, Windows Phone and many more devices and platforms.
Your phone number is your ID on Viber. It syncs with your mobile contact list and automatically detects and shows the people who are already using the Viber app. Viber claims to provide HD sound quality, which is much better than that provided by your mobile operator.
For more details, Click here.
Talk : This is also another most popular app used by more than 100 million customers worldwide and with this you can make free calls, send videos and pictures. You can make high quality group chat by making a group of unlimited friends. This app also has animated emotion icons to express your feelings.
Fore more details, Click here.
Happy free calling.
Category: Call Rates
I have always been a fan of writing and love to share information on latest technologies, mobiles, gadgets and social media. Sharing and acquiring knowledge is a boon, do let's share as well as acquire it. I am very much fond of Coffee.