Facebook is a private place where we do everything but sometimes we wish that our friend must not know about our activity or even we also don't want that other friends or people should see our facebook friend list.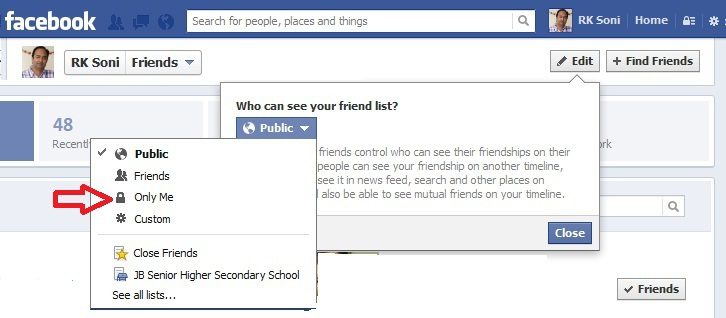 This can be done easily.
Just login your facebook account and follow the following steps
Click on your profile PHOTO and name which is on the top right corner of the facebook page.
Now click Friends box
Now click the Edit button near the top right hand corner of the page.
You will see a pop up "Who can see your friend list?" box, now change from "Public" to "Only me" option and then click Close button.
That is all, now only you can see your friend list and  your other facebook friends/people can see only mutual friends between you and your facebook friend.
Category: How to, Social Media
I am tehnocrate and love to share my views and technical knowledge on all types of topics related to telecom, social media and gadgets. I just love tea and food. Follow me on