Mobile operators are providing Value Added Services (VAS), in collaboration of other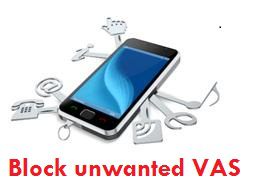 VAS companies, like News, Jokes, Cricket, Results, Astrology, mobile TV etc on your mobile as per the confirmation received from the subscribers. For the publicity of these VAS, The VAS Companies are sending SMS on the mobiles of subscribers and interested subscriber may subscribe by sending a SMS in a particular format to a number of VAS company.
But many subscribers have complaint that particular service (VAS) have been activated on their mobile without their consent and without sending any SMS for activating this VAS from their mobile.
Almost  all mobile operator have such complaints but only few complaints are resolved and many are unresolved because Mobile operator willingly don't deactivate VAS from their end. Some activated VAS on your mobile can't be deactivated by sending deactivation SMS to VA S Companies and in some cased, VA S companies even don't make aware the mobile subscriber about the deactivation procedure.
How to get rid of activation of unwanted VAS?
Now if you are suffering of such type of unwanted activation of VAS on your mobile, first of all, you must contact the call center of your mobile operator and simultaneously make a complaint to TRAI in addition to registering your mobile in DND (Do Not Disturb) (Now NCPR- National Customer Preference Registry).
How to register complaint with TRAI.
Type following SMS
COMP TEL NO XXXXXXXXXX, dd/mm/yy, Time hh:mm, short description of Unsolicited Commercial Communication"
and send it to 1909, here xxxxxxxxxx is the number from which you have received SMS of informing you about activation of unwanted VAS on your mobile.
Suppose you receive an SMS from 567789 on 25th Dec'12 at 2pm, then your complaint SMS will be "COMP TEL NO 567789, 25/12/12, Time 14:00" and send it to 1909.
You may also register your complaint by dialing 1909 and provide the details of unsolicited SMS to the call center executive
1)      Company / Brand / Telemarketer details
2)      SMS header of the message you received
3)      The date and time of the SMS
4)      And, description of the message
But it is advisable, instead of calling 1909 and connecting to customer care executive, it is better to send SMS to 1909 because dialing 1909 and registering your complaint is very time consuming.
How to register your mobile number in DND (NCPR)
Type START <space> 0 from your mobile and send to 1909 for fully blocked category
You will receive one more SMS and then you have to confirm it. The registration will be effective within 7 days of placing the request.
After registering your mobile number with DND (NCPR), you will not receive any type of SMS from telemarketers
Category: How to, Telecom Gyaan
I am tehnocrate and love to share my views and technical knowledge on all types of topics related to telecom, social media and gadgets. I just love tea and food. Follow me on