Every mobile device whether it may be your smartphone or tablet, each one have unique identity number known as IMEI( International Mobile Equipment Identity). In case your mobile device lost or stolen, this is the IMEI number which can help you to trace the device.

You need to tell IMEI of your mobile device to your mobile operator to black list the device as well as bloc the device . You also need to tell IMEI to law enforcement agencies so that in case, anyone misuse it, you may not get in trouble.
IMEI has 15 to 17 digits, all numbers only and you can find the IMEI of your mobile device by following ways.
1. Check the mobile device packing box, if you have kept it preserved safely, you can find IMEI of the mobile device printed on the sticker on that mobile packing box.
2. IMEI number is also printed on the compliance plate where battery of mobile set is fitted, just lift the battery of mobile and see beneath the battery, you may find IMEI here.
3. You can find IMEI of mobile device by dialling *#06# on your mobile device and it will display its IMEI number in most phones. Dual SIM phones have two IMEI numbers.
4. The shop from where you have purchased your mobile, it might be sure that shopkeeper have noted IMEI number on bill voucher, check it with you or you may inquire shopkeeper who can tell by checking duplicate copy of bill voucher.
5. In case you have not noted IMEI number and not able to find IMEI number in any ways, Google can help you to find IMEI of your Android device. Just go to your Google account and then click its account settings. Scroll down till you reach Android, expand it, here you will see all the Android devices connected to your Google account. Note down IMEI of your device from here.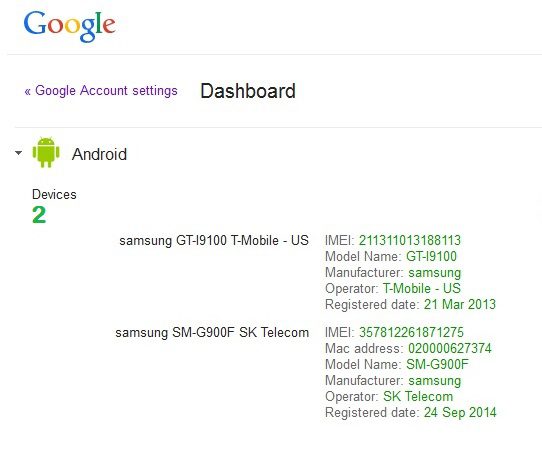 So right now, know IMEI of your mobile device and note down it safely.
If you enjoyed this post, please consider leaving comments or subscribe to the RSS feed to have future articles delivered to your feed reader.
Category: How to, Telecom Gyaan
I have always been a fan of writing and love to share information on latest technologies, mobiles, gadgets and social media. Sharing and acquiring knowledge is a boon, do let's share as well as acquire it. I am very much fond of Coffee.