Have you sent "wishes"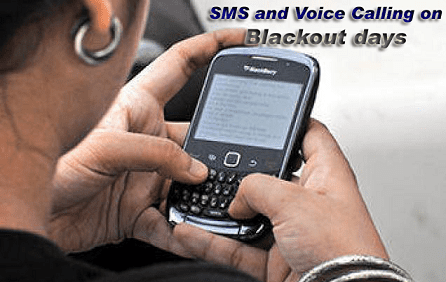 on today's Christmas day from your mobile phone!! Just stop now, today is blackout day and all concessional tariffs of voice call and SMS will not work. Your all "wishes" are being charged at normal rates.
Mobile operators charge all voice calls and SMS on blackout days at normal rates, ceases out all concessional rates as per TRAI guidelines. As per guidelines of TRAI, mobile operators have to declare blackout days and must give intimation prior to start of every blackout day. They must inform date and occasion of the blackout day to its customers. Many of us have already received such SMS from our mobile operator for black out day of Christmas day (25th December).
As per TRAI directions, blackout days must not exceed maximum 5 days in a calender year and all mobile operators declares these blackout days as per their convenience. Mostly they declare festival days as blackout days like Valentine day, Holi, Diwali day, New year eve (31st December), Christmas day and/or New year day (1st January) because on these festival days, people greets their friends/relatives over phone by voice calls/SMS in bulk.
Now you can avoid these conventional way of greeting, voice calls/SMS from your phone to cut down your phone bill. You can send free SMS or you can greet by free voice call or video calls on these blackout days.
Here are the options which you may use.
By using services of websites like way2sms.com, text4free.com, freesms.net, wadja.com, youmint.com, peekamo.com , 160by2.com, hai91.com, textport.com , smscrow.com, Bhokalisms.com, websendsms.com, sms7.com, mysmsindia.com and other similar hundreds of such sites, you can send free SMS to all your friends/relatives subject to mobile number is not registered with DND registry.
If you have gmail ID, you can send free SMS directly from your gmail account.
Facebook users can send their wishes by using facebook messenger.
Smartphone users have many more options, they can use apps which offers free SMS/callings like WhatsApp, WeChat, Line, Google Hangout, Tango, Fring, Nimbuzz, Jaxtr, KakaoTalk, Kik Messenger, Text Plus, Talkatone, Viber, Hike etc. The conditions is that recipient's smartphone must also have installed the same apps. (for more information on the app, just search it on google by typing the above keywords)
If you want to wish face to face, you may wish by using free video calling facility of Skype and other apps on your smartphone.
Hope this info helps you to save your telephone bills specially on blackout days.
Check out blackout days declared by your mobile operator now !!
Category: Call Rates, How to
I have always been a fan of writing and love to share information on latest technologies, mobiles, gadgets and social media. Sharing and acquiring knowledge is a boon, do let's share as well as acquire it. I am very much fond of Coffee.