Smartphone of modern technology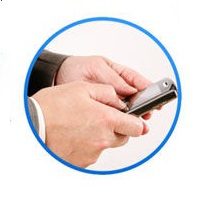 has become as a necessary tool which allows you to be in touch with the world from almost anywhere, almost all the time. Today's smartphones can let you to do more than just talk, it let you to send and receive email and text messages, surf the Web, and play music and videos. And, being on Social media sites, you make friends all over the world.
If you are a first timer, it is difficult to choose mobile operator and right smartphone for you but we'll walk you through what you need to know to get the right smartphone for you and help in choosing the budget service plan that is right for you as per your need.
Features of Smartphone to Consider
When you're shopping for a smartphone, you can do some simple hands-on tests in the store to ensure that the handset has everything you need.
Design and Display: Size matters for some applications like watching movie or surfing web on big screen gives big entertainment so consider the size of phone with this need also however a size of 4.5 inch to 5.5 inch is easy to hold and easily pocketable. Even bigger size is better for tablets.
Resolution of display also play important role if you watch videos, photos or play games. Now a days HD resolution is common in smartphones.
Operating system: Smartphone is more than a simple phone and you can do many more other things including make calls and send text messages. The mobile operating system you choose will greatly affect your phone's capabilities. The most popular platforms are Google's Android (found in most of popular phones), iOS (only on iPhone models), and Microsoft's Windows Phone. All these three OS launches new versions or updates with more features. As of now Android has Kit Kat version, iOS has iOS 7 version and Windows has Windows 8 version. Each operating system has its own advantages and disadvantages, so familiarize yourself with all of them before settling on one.
4G support and availability: In India, 4G services is presently being provided by Airtel but in coming days, other operators are going to launch 4G services across the country and you will be also be able to make voice calls as well as surfing the web at faster speed as compared to 3G network. iPhones are not supporting 4G technology used in India because here in India TD-LTE network is being deployed while iPhones works on FD technology so keeping the demand of future you must invest your hard earned in costly Smartphones.
Cameras: Smartphone have killed the Cameras, you need not to carry separate camera on your holidays because 8MP camera in Smartphone is pretty much the standard. Camera of higher megapixel doesn't necessarily mean a better camera unless it has a flash (dual-LED or Xenon flashes work best) otherwise, pictures you take indoors or at night will come out looking like blurry messes. So check these features by taking few pictures in the store to get a clear idea of the camera's photo quality.
For video-capture, HD 720p or 1080p is considered best. If you intend to make a lot of video calls on your phone, then your phone must be fitted with a high-megapixel front-facing camera or one with HD video capabilities
Processor: A higher clocked quad-core processor navigates faster on your phone and all applications runs smoothly. Quad-core processors are quickly becoming the standard in phones but going forward, even more core processors will be advantageous.
Battery life: For uninterrupted longer use of smartphone, a powerful long-lasting battery is a must. There's no easy way to predict how long a phone's battery will last but generally 4G LTE phones have shorter battery lives than 3G phones. If you use your phone much, you may carry an extra battery or a wireless charger.
Selecting Mobile Operator and Picking the Right Plan
Before you make up mind for a particular mobile operator, find out which operator offer solid coverage in your locality, town, or city. You can get feedback from your neighbors about the operators they use, and whether they are satisfied with the services. If you select a cheaper data plan but don't have good coverage in your home, you'll be in more frustrating condition. You must choose the mobile operator which gives you best Network coverage and also have competitive plans.
Most of you are having smartphones and 2GB of data is supposed to be sufficient for users who use it for web browsing and downloading apps on smartphones. You can have a look on the tariffs of 1GB data packs of all mobile operators in India and can select as per your need.
Almost all operators have 2GB data plan for a price just double of 1GB data packs.
You must also think for type of plan, you may go for prepaid or postpaid plan. The prepaid plans keeps your budget in your own control while postpaid plans have other benefits.
Hope this article helped you, don't forget to write your views in comment box below.
Category: Data Usage, How to, Mobile Phones
I have always been a fan of writing and love to share information on latest technologies, mobiles, gadgets and social media. Sharing and acquiring knowledge is a boon, do let's share as well as acquire it. I am very much fond of Coffee.