Those of you who have a facebook accounts and maintains facebook pages, they want to use this space of facebook pages to make it more effective and want to deliver their best for their audience or customers.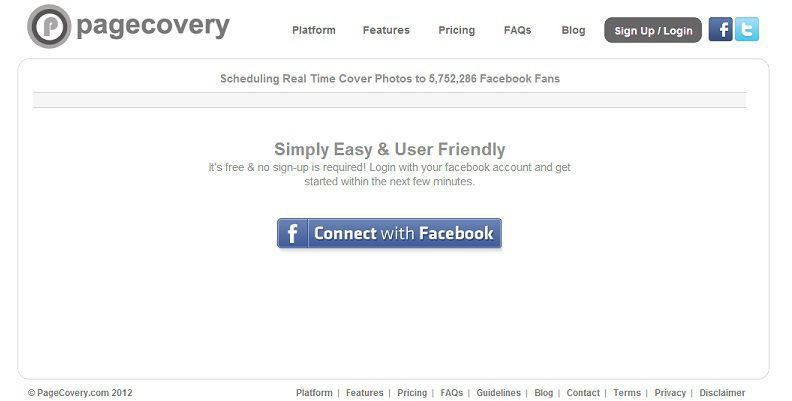 Most of the bloggers and business houses maintain their pages on facebook and uses third party tools to schedule Facebook posts because it saves their time and get their business more exposure with fewer efforts.
At present, on the facebook pages, you are uploading cover photos manually but now you can change cover photos at any time according to your planned schedule this could be done with new application PageCovery
PageCovery is a new application that allows you to schedule  change cover photos on your facebook pages at a specific date and time. There is no need to sign up for this application rather it allows you to use your Facebook account to access the PageCovery app.
Just follow the below steps to schedule for change of cover page of your facebook pages
Visit the PageCovery  and click the sign in button  and then click "Connect with facebook account".
Authorize the app to change cover photos on behalf of you.
After login in, you have to choose a Facebook page that you own whose cover photos changes you want to schedule by clicking "add page" button. Later on, you can select your other pages also.
In the next step, you have to select the Time zone for the page. This is important if you're targeting country-specific people on your Facebook page.
On the next page, you'll be provided with the image upload tool. You can choose 'day or date schedule' as how many days you want to set the image as Facebook cover photo for. Upload image from your computer and Set the date and time and hit 'Schedule Cover'.
You can also hide cover photo updates on your Facebook page news feed by ticking the checkbox.
Now The cover photo will automatically be changed and updated at your specified date and time.
PageCovery have an another interesting features called Live Feed Scheduler that allows you to display live image feed directly onto Facebook cover photo which changes automatically at every minute interval. Perfect for streaming real-time images via cover photo like live Video Feed, Recent Instagram Picture, Flickr Feed, etc
As a free user, currently you can schedule a maximum of 5 cover photos while the premium account offers you to schedule unlimited cover photos your Facebook pages.
Note: This new application doesn't allow you to schedule change cover photos on your Facebook profile and it just changes cover photos on Facebook pages only.
Category: How to, Social Media
I am tehnocrate and love to share my views and technical knowledge on all types of topics related to telecom, social media and gadgets. I just love tea and food. Follow me on