Facebook owned WhatsApp is gaining its popularity day by day in India. Young generation is so much obsessed about it that they can't live without it. Most youth are buying smartphone just because of WhatsApp. Now a days this app is so much popular that even old aged citizens are using smartphones just to use WhatsApp.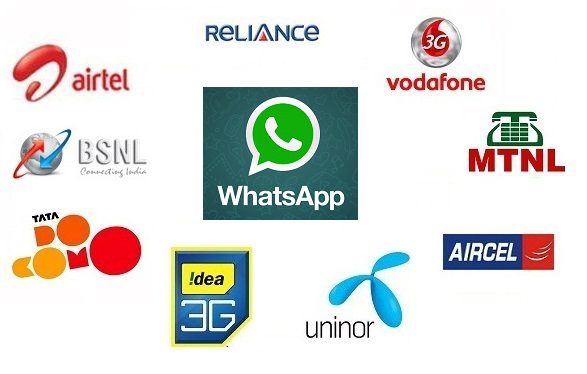 Although WhatsApp is free but its use is not free. To use it, you need internet connections. Although most of Indian operators are activating Internet services with its voice packs but that costs more ranging from 2p/10KB to 20p/10KB. If one uses WhatsApp with this default internet service and if they use 200MB per month then it may cost them Rs Rs 400 to Rs 4000.
But Most of Indian mobile operators have data packs offering 200MB data for full one month at the price, up to Rs 100.
But if a user just needs to use WhatsApp only then mobile operators also have specific data packs for that. Let us look what they offer.
Idea has just launched one data pack in Andhra Pradesh specifically for use of WhatsApp at the price of Rs 39 and it offers 200MB free data for full 30 days.
Aircel have two WhatsApp specific data packs. One is priced at price Rs 14 which allows 110MB free data to be used within 14 days and other one is priced at Rs 26 which comes with validity of 28 days and offers 200MB data for use of WhatsApp and Facebook. Aircel has just started offering data pack for Rs 29 which allows you 125MB free data which may be used for social media as well as other Internet surfing. Data pack 29 comes with validity of 28 days
Reliance Communication is offering unlimited free use of WhatsApp with its data pack of Rs 177 which also adds additional 1GB to your mobile phone. RCOM also have specific WhatsApp data pack at Rs 16 only which allows you unlimited free use of WhatsApp
Airtel offers data pack with 200MB free data for specific use of WhatsApp in the price range of Rs 36 to Rs 49. The prices differ as per telecom circles.
BSNL have Add-On data pack for its postpaid susbribers of North zone circles which allows free 200MB data exclusively for use of WhatsApp. It costs Rs 30 per month. BSNL forget to bring out such specific data pack in other zones. BSNL's prepaid users can have 200MB data for Rs 73.
Uninor has Sabse Sasta WhatsApp pack, it offers unlimited use  of WhatsApp for one day for just Rs 1, for one week at Rs 5 and for one month at Rs 15 only
Tata DoCoMo don't have any WhatsApp specific data pack but its Stretch and power  packs are very much affordable at Rs 31 and Rs 58 which allows 100MB and 250MB respectively. Both data packs have validity of 30 days.
MTNL Mumbai has 100MB data pack costing Rs 51 with validity of 30 days. It is not WhatsApp specific even you may use it for all purpose on Internet. For MTNL Delhi customers it costs Rs 50.
Vodafone neither have WhatsApp specific data packs nor it has affordable data packs.
WhatsApp have also tested voice calling feature in its beta version and very soon Indian customers may be able to use this feature.
Category: Applications
I have always been a fan of writing and love to share information on latest technologies, mobiles, gadgets and social media. Sharing and acquiring knowledge is a boon, do let's share as well as acquire it. I am very much fond of Coffee.