Much hyped iPhone 6 and iPhone 6 Plus are available on all four major carriers in USA and customers who see the price tag of $199 for iPhone 6 feels happy but how much it costs you, just see.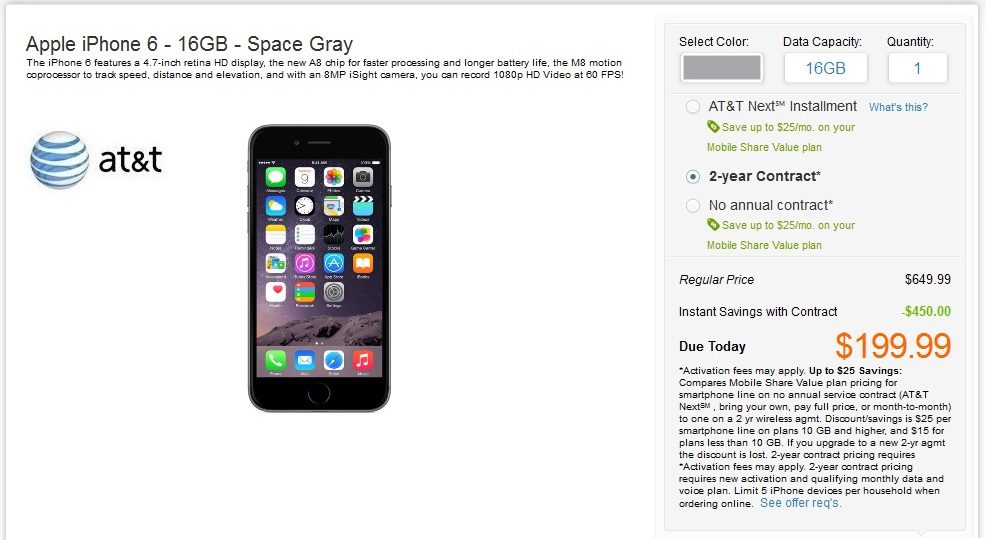 AT&T listed iPhone 6 (16GB) at $199 if you sign up two year contract, first of all, carrier will charge you $40 upgrade fee and you will no longer be eligible for Mobile Share Value monthly discounts be it $15 or $25 a month (discount $25 per smartphone line on plans 10 GB and higher, and discount $15 for plans less than 10 GB). If it is $15, you will loose $360 in two year or if it is $25, you will loose a handsome amount of $600 over two year. This has been mentioned in AT&T's disclaimer as shown above.
So for customer,who are currently availing discount of $15, this new iPhone 6 (16GB) will costs them $199+$40+$360=$599 and for customers who are enjoying $25 on MSVP, iPhone 6 (16GB) costs them $199+$40+600=$839.
But if you qualify for a good credit risk, you may get iPhone 6 (16GB) under AT&T Next  Installation Program, for just total cost of $649, spread over 24 month with $27.09 monthly installment without $40 upgrade fee and upfront $199 cost. You just need to pay sales tax on total cost of the device only.
Category: World Telecom
I have always been a fan of writing and love to share information on latest technologies, mobiles, gadgets and social media. Sharing and acquiring knowledge is a boon, do let's share as well as acquire it. I am very much fond of Coffee.