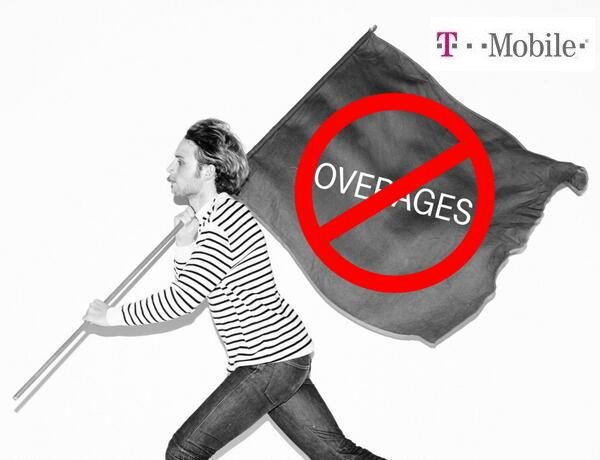 Mr John Legere, CEO of T-Mobile, USA kicked off new campaign #AbolishOverages and the carrier has also announced that from billing cycle starting from May 1, 2014, no overages will be charged whether the customer is on new plans or old or grandfathered plans. T-Mobile has also urged to its all rival carriers AT&T, Verizon and Sprint to abolish the overages.
Mr John Legere has place his petition at Change.org and surprisingly nearly 1 lakh customers have registered their reason to abolish overages for their phone bills within a week time.
Mr Legere Says "I'm laying down a challenge to AT&T, Verizon and Sprint to join T-Mobile in ending these outrageous overage penalties for all consumers — because it's the right thing to do,Overage fees are flat out wrong." He further says "The worst thing about these overage fees is that they're often inflicted on those who can least afford them, As an advocate for consumers, we're putting a stop to that. I personally won't be satisfied until we obliterate this shameful practice from the entire wireless industry."
Actually, a budget customer who is using small data plan is the most sufferers of overages. Although carriers are sending alerts when the customer is near to reach the allowed data limit but in spite of that some careless customer uses additional data and then faces bill shocks.
The overages charges are very high, in most of the data plans, the overage charges are almost equal to the charge of data plan.
Let us see what major carriers charges as overages.
At Verizon, data plans starts at 250MB for $15 and if customer crosses limit of 250MB and uses even 10KB more data, the carrier charges additional $15 as overages fee and this overage $15 is applicable up to 250MB+250MB.
Similarly customer on Verizon's 500MB More Everything plan which costs $30 but its overages charges is also $15 per 500MB.
Customers, on plans 1GB and above, has to bear data overage fee of $15 per 1GB of data beyond the data allowance of plan..
AT&T has most expensive data overages, a customer on its 300MB data plan, which costs $20, has to bear overage fee of additional $20 per 300MB. Customers, on data plan 1GB and above, have to bear overage $15 per 1GB on all other data plans.
Sprint has, although, introduced unlimited data plan under its Framily plan but if a customer subscribe to its 1GB Framily plan which costs $55 and uses additional data in spite of alerts, he has to bear overages charges as 1.5 ¢ per MB.
T-Mobile has already initiated abolishing overages by its new Simple Starter plan which doesn't allow you to use any additional data, as customer near to reach allowed data, it offers option to buy additional data. Under its Simple Choice plans, it just throttles the speed of data usage after crossing the allowed data limits.
So you can see if a customer have a vigil watch on data usage, he/she can avoid bill shock which may even double the bill. If all US carriers  agrees to T-Mobile's appeal #AbolishOverages, all consumers may feel relaxed and can use Internet without fear of any bill shock.
Category: World Telecom
I have always been a fan of writing and love to share information on latest technologies, mobiles, gadgets and social media. Sharing and acquiring knowledge is a boon, do let's share as well as acquire it. I am very much fond of Coffee.