Use of Facebook will be absolutely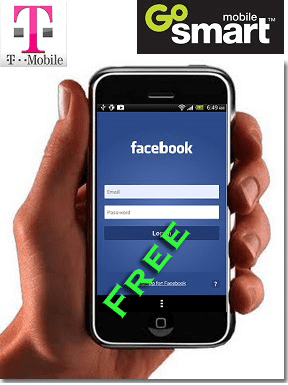 free for the users of GoSmart customers from January 1, 2014. This move came through with an agreement signed between T-Mobile and Facebook by which facebook usage cost will be born by facebook.
Go Smart customers will use the facebook free even if they don't have opted any data plan from Go Smart. Go Smart offers two such plans, one is priced at $25 which allows users unlimited talk only, other one is $30 plan which offers unlimited talk and text. Hence customers of these plans will be benefited more as compared to others who are using unlimited data plan of $35 and $45.
The difference between these two unlimited data plans is that plan $45 offers you usage of 5GB of data at high speed of 3G after that speed tethers to 2G speed. These both plan also include unlimited talk and text.
Free usage of facebook makes no sense for the users of these two unlimited data plans.
Why facebook is free !!, the catch of the "free facebook" offer is that it is free until user is within facebook only for reading contents, viewing photos or videos. if user clicks a link in the facbook which lets user out of facebook, it will now consume data from user's regular data plan. The Facebook app will actually warn users for click of links which lands you outside of Facebook.
With this offers, MVNO  GoSmart will make user "facebook addicted" and expect that more customers will subscribe to unlimited data plans. Because of the catch of the offer, users will need data plans to visit the sites which are out of facebook and here the MVNO Go Smart will encourage users to access more content outside facebook from their smartphones and tablets so that they subscribe to a data plan.
T-Mobile's other MVNO like MetroPCS don't offer "free facebook access" but it offers more competitive tariffs, it offers unlimited talk, text and data plans starting from $40, the plan of $40 also offers high speed data usage of 500MB at 4G speed, after which speed reduces. The plan $50 has cap at 2.5GB of data at high speed of 4G and plan $60 offer true unlimited data usage at 4G speed.
Here it must be noted that Go smart doesn't offer 4G LTE plans
Category: Data Usage, World Telecom
I have always been a fan of writing and love to share information on latest technologies, mobiles, gadgets and social media. Sharing and acquiring knowledge is a boon, do let's share as well as acquire it. I am very much fond of Coffee.