Fiber to the Home (FTTH) Service is provided by three major operators BSNL, Airtel and Tata DoCoMo.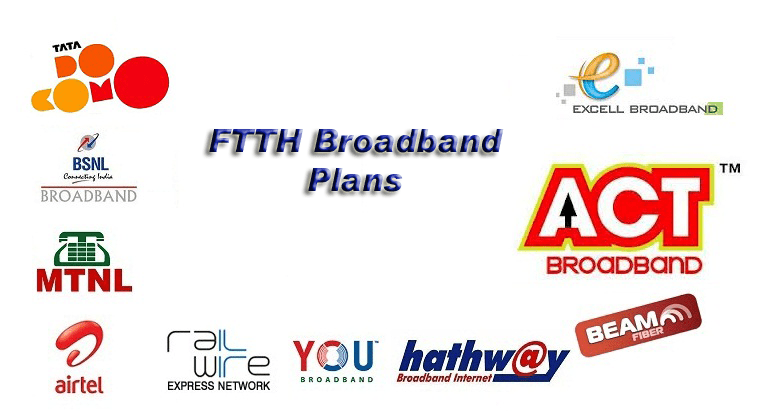 The broadband on FTTH has download speed up to 100 Mbps, just imagine, at this speed, a full movie can be downloaded within few minutes. FTTH may not be so popular but it is a very good service.
Le t us see what these three operators are offering
Coverage:
FTTH services are not available even at all major cities, even you can't find it at all places in a city so it is better to inquire from the respective Customer Service center about availability of the FTTH services at your desired place.
BSNL has the largest coverage and is offering FTTH in all major cities of all states of India except Andman Nicobar. For details of cities please click here.
Airtel has FTTH network in 17 states of India while Tata DoCoMo also offers FTTH services at major cities of India.
Tariff Plans.
Tariff of FTTH plans are still higher as compared to Copper wired Broadband or 3G/ 4G Broadband offered on Mobile. You can get Wired Broadband at cheaper rates offered for download speed upt o 8Mbps as well as 3G/4G Broadband on Mobile at cheaper rates. Airtel is offering 4G services in India at the rate of its 3G plans.
Let us have a look on Comparative chart of FTTH Tariff of  Tata DoCoMo, Airtel and BSNL.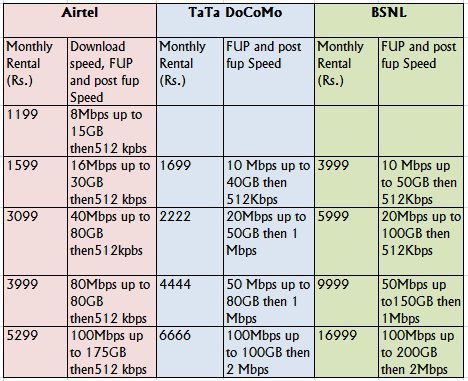 Tata DoCoMo has reduced its FTTH tariffs recently and is offering special offer on booking of FTTH plans. Those who will deposit in advance 12 months rental, will be given tablets worth Rs 5000 or Rs 39000 as per the FTTH plan booked. For more details please click here.
Airtel has the cheapest FTTH Plans as can be seen from the table.
BSNL is having the costliest plans. Although BSNL reduced tariff of FTTH upto 80%, even then, the new plans are still costly in comparison to other mobile operators.
MTNL offer Broadband service on FTTH in Delhi and Mumbai metro at one download speed of 10Mbps only but with different FUP. The prices of different plans are fixed as per FUP, for example if you need FUP at 20GB, the monthly rent is Rs 990 and for FUP at 80GB the monthly rent is Rs 1990.
Some local ISPs/Cable Operators are also offering Broadband services on FTTH in limited areas and they are also offer the service at very affordable price in comparison to big players so before opting any FTTH operator, let us compare its tariffs along with customer service records.
Excell Broadband offers Broadband on its Cable Network of Fiber in AP at about 27 places, its plan starts from 1Mbps but its 10Mbps plan for single user is priced Rs 1050 per month which has FUP at 40GB. After FUP speed reduces 2Mbps. For more plans, please click here
Hathway also provides broadband services on FTTH at 12 cities of India its highest plan of 15Mbps is priced Rs 1025 with FUP at 40GB, after FUP speed reduces 512Kbps. For more plans, please click here
You Broadband offer Broadband on FTTH in 13 major cities of India and has plans upto 50Mbps prices 2499 per month, its 10Mbps plan is priced Rs 1020 per month which has FUP at 30GB. After FUP speed reduces 2Mbps. For other plans, please click here.
ACT Broadband operates at three places, Bangalore, Vijawara and Nellore. It also provided Broadband in Hyderabad under the brand name of Beam fiber. The company offers Broadband on FTTH technology. It has plan up to 50 Mbps prices Rs 3249 per month and has FUP at 250GB, after FUP speed reduces to 2Mbps. Its 25 Mbps plan prices Rs 1349 per month with FUP 60GB. For more details, please click here
Railtel under the brand of Railwire also provided broadband in select cities. It has highest plan of 10Mbps which is priced Rs 1235 per month with FUP 40GB, after FUP speed reduces 512Kbps. For others plans
It is clear that local cable operators are also offering Broadband service on FTTH at affordable price, even if you are interested in plans offering 50Mbps download speed but if you need higher data download speed i.e. 100 Mbps then you have no options except to go for big players.
Category: Broadband
I have always been a fan of writing and love to share information on latest technologies, mobiles, gadgets and social media. Sharing and acquiring knowledge is a boon, do let's share as well as acquire it. I am very much fond of Coffee.