If you are going to use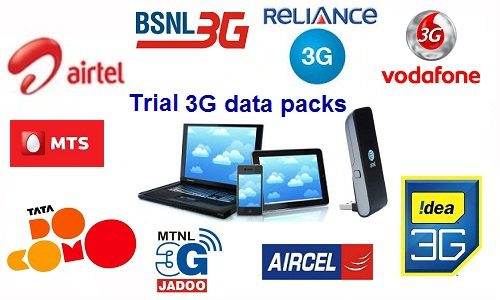 Internet services first time on your smartphone or Tablet/Laptop then you need a data plan which must suite all your requirements and also come in your budget. Before opting a data plan, it must be ensured that you are getting the most competitive tariff on your data plan and also, you are going to get uninterrupted Internet service at the place where you want to use the data plan.
The better way is to use the trial packs offered by mobile operators so that at least you can check the network availability and download and upload speed in the data plan. Mobile operators are offering other freebies for the beginners time to time so let us check the trail packs offered by different mobile operators and after using any trail packs, if you feel unsatisfied, go for other mobile operator by purchasing new SIM otherwise you may change the mobile operator by Mobile Number Portability (MNP) option keeping the SIM number same.
Let us have a look on trial packs which are available from different mobile operators.
Mobile Operator
3G data Trial pack
You can check Airtel 3G data services by purchasing its 1GB data plan priced at Rs 255 with a validity of 30 days. Post consumption of free data, the additional data will be charged 3p/10Kb. You can purchase 3G dongle 7.2 Mbps from Airtel at discounted rate of Rs 1229.

Before opting 3G services of Airtel, first ensure that Airtel is having 3G network at your place/city.
You have to purchase new Tata DOCOMO Data SIM at Rs20 and then recharge with Rs 299 which offers you upfront 3GB data free for 30 days and if you recharge again with Rs 299 recharge coupons five times within 30 days validity, you will get staggered additional 1GB extra each time along with 3GB so totalling 8GB within 30 days.

You have other trial pack of Rs 100 which offer 3GB data first time. To avail these offers you have to buy Photon 3G Dongle of 7.2 Mbps for Rs 1649.
Idea have trial pack of Rs 21 which offers 75MB data free for just 3 days and after crossing limit of 75MB, additional data will be charged at 3p/10Kb. You can also check with first recharge data pack of Rs 175 (for Gujarat) which offers you free data of 1GB for 30 days and additional data will be charged at 2p/10Kb.

For Haryana, Idea offer first recharge of Rs 69 which offers you free 300 MB data and 1500 sec talk time for 30 days.

You can purchase 3G dongle of 7.2Mbps from Idea "Netsetter" at the price of Rs 1799.

Price of regular data plan of 1GB varies from Rs 246 to 250 from state to state so check out tariff at Idea shop in your locality.
Recently Vodafone launched trial packs for the beginners of Rs 25 for 2G data and Rs 49 for 3G data for limited period from 7th April-2013 to 26th May 2013. Both trial packs offers free 500MB data for 7 days only and post consumption of free data, user will be charged 2p/10Kb for additional data.

You may also opt recharge of Rs 249 which offers 1GB data with validity of 30 days.
Aircel have introduced one innovative unique data plan of Rs 24 (PI-24) which offer merely 100MB data but with longer validity of 30 days. This data plan can be used on smartphones only but if you want to check Aircel data services on your laptop via 3G dongle, you may go for 1GB data plan which cost Rs 198 and have validity of 30 days.

If you buy 3G dongle from Aircel, they are offering 3G dongles of 7.2 Mbps at Rs 1777 along with 6GB data free.
If you want to go for BSNL, you have two options, one is that you can purchase 3G dongle from BSNL itself and BSNL offers you bundled free data pack of 1GB. If you are purchasing Dongle from open market then BSNL have SUK (Start Up Kit) of MRP of Rs 51 which offer free data of 200MB. This much data is not sufficient so you can purchase STV of 1GB with validity of 7 days for Rs Rs 151 only.

At present BSNL have launched promotional offer from 23-4-2013 on 3G Dongle and is offering 3G Dongle of 3.6Mbps at Rs 1280 and 3G Dongle of 7.2 Mbps at Rs 1600. You may find tariffs of BSNL very competitive but ensure network availability at your place of use of data plan.

Reliance has trial pack of Rs 98 which offer 1GB data with validity of 2 days only. Reliance offer 3G Dongle 7.2 Mbps at Rs 1499 and 3G Dongle of 21.6 Mbps at Rs 1999 only.

If you get satisfied with data services then regular 1GB data comes for Rs 173 with validity of 7 days only.
MTNL offer 3G dongle of 3.6 Mbps at Rs 1200 bundled with free 15 GB data for 30 days. MTNL also have regular 3G data plan of Rs 1200 which offer free 15GB data so effectively MTNL is offering 3G dongle free of cost.
MTS provide data services through MTSBlaze dongle which can be purchased from MTS at MRP of Rs 1149, it is basically CDMA data card and provide speed up to 3.1 Mbps.

MTS have trial pack of Rs 96 which offer 1GB data for just 24 hours only. MTS have one more STV of Rs 179 which offers 2GB free unlimited data with longer validity of 3 days.

It must also be noted that all mobile operators are not having 3G network at all places and having 3G network in selected cities and in selected area only so before choosing any mobile operator, pl ensure that it have its own 3G data network in your locality.
Category: Data Usage, How to
I have always been a fan of writing and love to share information on latest technologies, mobiles, gadgets and social media. Sharing and acquiring knowledge is a boon, do let's share as well as acquire it. I am very much fond of Coffee.