BSNL today announced revision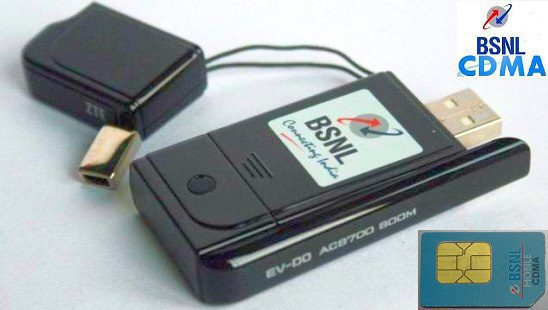 of free data usage for EVDO data plan customers to be effective from 1-April-2014. As per announcement, the company will now allow customers to use free data usage up to three times, i.e. an increase by 300% in free data usage.
The existing EVDO postpaid data plans which starts from FMC of Rs 199 and that is currently allows 0.5GB free data only, now customer will enjoy 1.5GB free data usage. Similarly free data usage will be revised from 1GB to 2.5GB in postpaid plan of FMC Rs 299 and postpaid data plan customers with  FMC RS 449 will now enjoy 4.5GB data in place of currently 2GB free data. The customers on postpaid plan of FMC Rs 649 will be allowed 7GB free data in place of currently 5GB free data.
The EVDO prepaid plans are also going to be revised, the free data usage in all prepaid data plan will be doubled and prepaid data STVs of Rs 170 will now offer 1.5GB free data in place of currently 0.5GB free data. The data STV of Rs 285 and Rs 565 will now offer 2.5GB and 6GB free data usage in place of currently 1GB and 2.5GB data respectively.
Unlimited data plan prices are unchanged and it is just Rs 750 for both prepaid as well as post paid customers.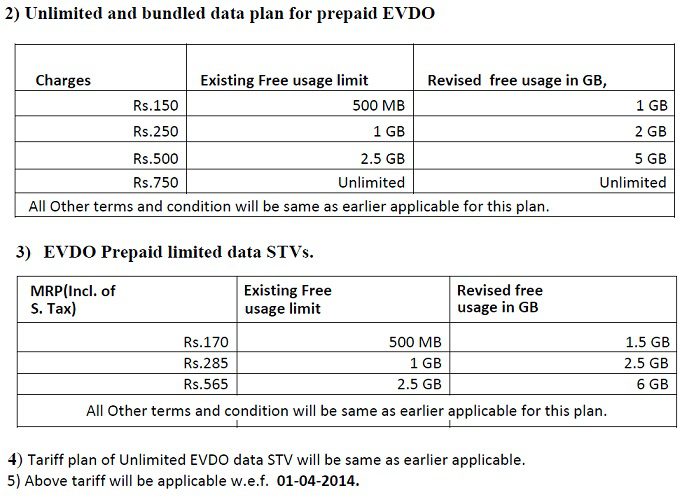 Is the competition with other EVDO operators or correcting mistakes? Now EVDO data usage will be cheaper in comparison to BSNL's 3G usage which costs Rs 139 for 1GB.  Just few days ago, MTS has already launched new super unlimited data plan for its 3G plus data (EVDO) users,  40GB at just Rs 999. For more details on other data plans click here.
Category: Data Usage
I have always been a fan of writing and love to share information on latest technologies, mobiles, gadgets and social media. Sharing and acquiring knowledge is a boon, do let's share as well as acquire it. I am very much fond of Coffee.