Inspired by encouraging response from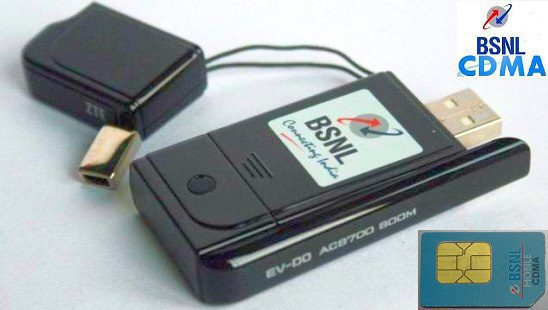 customers for EVDO data services in South zone,  BSNL announced promotional offer for EVDO to boost up the sale of EVDO data cards in UP (E) telecom circle starting from 7 Feb, 2014 for a limited period ending 31 March, 2014.
As a promotional offer, BSNL has offered
A discount of 20% on the sale price of EVDO data card for just 30 days starting from 7 Feb, currently BSNL is selling EVDO data card for Rs 1199 which comes with free initial usage value worth Rs 399. Hence customer can by EVDO for Rs 959 in this promotional period.
On purchase of EVDO dara card, free data of 2GB with validity of 30 days from existing free data worth Rs 399.
Special data STV of Rs 99, Rs 200 and Rs 399 enabling customer to use free data of 900MB, 2GB and 5GB respectively as detailed in following table
Special Tariff Vouchers (STVs) for EVDO data card users
As you can see in above table, BSNL have also re-launched STVs of Rs 200 and Rs 399 again in Kerala telecom circle with immediate effect. Actually for the EVDO customers of telecom circles of south zone, BSNL launched two data STVs of Rs 200 and Rs 399 in past as promotional basis for 90 days effective 1 Nov, 2013 but based on customer feedback, BSNL have again re-launched these data STVs of Rs 200 and Rs 399 for customers of Kerala only as a promotional basis up to 31 March, 2014.
As per table shown above, you may also realize the difference of data STVs offered by BSNL across the country, you can see, expect UP(E) and Kerala, customers, across the country, have to pay Rs 285 for 1GB while customers in UP(E) and Kerala are enjoying 2GB of data for mere Rs 200 only.
For those who are new to EVDO data cards, EVDO stands for EVolution Data Optimization is a telecommunication standard for high speed broadband Internet access and it uses Code Division Multiple Access (CDMA) technology and offers download speed up to 3.1MBit/sec and upload speed up to 1.8MBit/sec.
BSNL offers free roaming for EVDO data card users and they can use free data in the roaming area at the same rate as applicable in home telecom circle.
Category: Data Usage
I have always been a fan of writing and love to share information on latest technologies, mobiles, gadgets and social media. Sharing and acquiring knowledge is a boon, do let's share as well as acquire it. I am very much fond of Coffee.