Today's news was, Idea has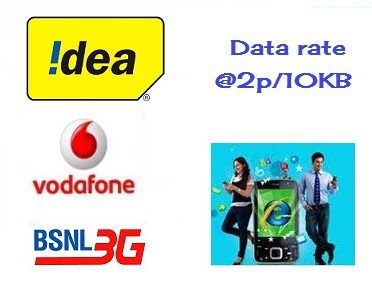 announced reduction in 2G/3G data tariff by up to 90% and new rates are 2p/10KB. Vodafone also slashed data tariff by 80% for PAYG (pay as you go) customers on the festive as Diwali bonanza.
Actually Idea slashed 2G data rates from 2p/KB to 2p/10KB (90% reduced) effective from 1-July-2013 for 90 days and with success of this scheme, Idea has now extended this reduced tariff to its all customers in all 22 telecom circles from 15 November-2013 for next 6 months. Idea has also announced that this tariff  @2p/10KB will also be applicable for Idea's 3G users in 10 telecom circles, namely Gujarat, Haryana, UP West and UP East, Maharashtra & Goa, MP & Chhattisgarh, Kerala, Andhra Pradesh, HP and J & K.
Presently Idea is charging 3p/10KB for extra data usage in data plans of less than 1GB and half paise per 10KB in all data plans of 1GB and higher. With this move, users of data plan less than 1GB are benefited and they can save 30% while users of higher data plan will have to pay four times as before from 15-November-2013.
Similarly Vodafone reduced data tariff from 10p/10KB to 2p/10KB for its prepaid and postpaid customers in Karnataka, Uttar Pradesh (west), Madhya Pradesh and Chattisgarh telecom circles in the month of June-2013 and Now the Mobile operator has extended this reduced tariff to all its customers across the country effective 1 November-2013.
This data rates @2p/10KB are for those customers who are either not using any data plan or if customer has recharged with a Data plan, then this rate is applicable after consuming free data usage bundled with Data STV.
BSNL is charging extra used data uniformly @2p/10KB for all prepaid customers and @1p/10KB for all Postpaid customers across the country since long.
Now if Mobile operator is selling Data STV of 1GB of 2G data plan in the price range of Rs 125, then without this data STV, customer has to pay Rs 2000 for 1GB if we count @2p/10KB.
Will you pay Rs 2000 for 1GB @2p/10KB or recharge your phone with a data plan which allows you 1GB data by paying just Rs 125 ??
Category: Data Usage
I have always been a fan of writing and love to share information on latest technologies, mobiles, gadgets and social media. Sharing and acquiring knowledge is a boon, do let's share as well as acquire it. I am very much fond of Coffee.