Even after slashing tariffs of 1GB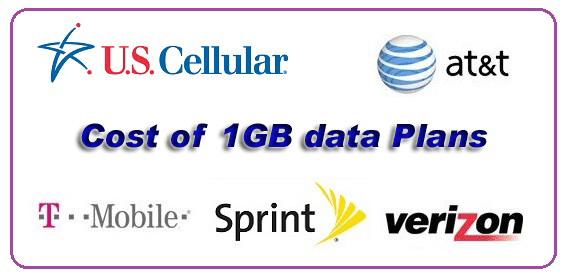 data plans by major carriers in US, still 1GB data plan including unlimited talk and text cost $50 but now this time America's fifth leading carrier, US Cellular also followed the big brothers and enhanced the data allowance in its existing shared data plans. The carrier also launched a new low cost data plan $15 and all these changes already come in to effect from March 13, 2014.
So the existing customers on $40 monthly plan will get now 1GB data in place of 300MB that is almost three times gain in data usage. The customers on existing shared data plans of 1GB, that costs $50, has been allowed to use double data 2GB without any additional fee. Existing customers on $60 plan has been allowed to use 3GB in place of 2GB data usage. The device connection charge is very high,  $40 for smartphones resulting $80 for 1GB and $90 for 2GB to customer.
The carrier also launched a promotional offer of single line smartphone plan for $60 that includes 1GB data usage.
If we look for 1GB data plan from major four carriers, we find plans as tabulated below.
Verizon has also today launched silently two new single line plans for smartphones, one is 1GB data plan priced at $60 and other one is 2GB data plan for $75, both plans include unlimited talk and texting. The overage charge is $15/500MB and $15/1GB respectively. Customer signing Edge plan gets $10 discount and costs them $50 and $65 only.
Verizon has 1GB sharable data plan under More Everything for $80 including device access fee and allows also unlimited talk and texting.
AT&T recently discontinued its $45 plan for 1GB sharable data while it has also dropped 2GB data plan from $55 to $40 only hence including device access fee, 2GB sharable data plan costs $65 to the customers.
T-Mobile also going to enhance data allowance in its core data plan $50 and customers will then starts getting 1GB data instead of earlier 500MB data for the same price. New offers will starts from March 23, 2014.
Sprint has Framily plan starting at $55 for 1GB sharable data allowance, with additional payment of $10, customers are allowed 3GB data usage. Data allowance in Framily plans are not shareable
As per above table it is clear, still T-Mobile would have the most budget data plan costing $50 and $60 only for 1GB and 2GB respectively in US from March 23, 2014 while Customers right now can gets best data plan from Sprint for just $65 for 3GB data allowance under its Framily plan.
Do you think, US Cellular took the right step to compete with major carriers ?
Category: World Telecom
I have always been a fan of writing and love to share information on latest technologies, mobiles, gadgets and social media. Sharing and acquiring knowledge is a boon, do let's share as well as acquire it. I am very much fond of Coffee.