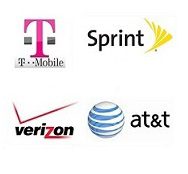 Following the T-Mobile's International roaming plan for its USA customers under Simple choice global plan, Sprint have also launched International roaming plan but let us see who's customer gets maximum out of it.
Sprint is giving free access to unlimited 2G data international roaming in 15 countries only while T-Mobile allows international 2G data roaming in 120 countries.
Both carriers allows their customers to choose options of accessing internet at high 3G speed and both offers special data passes. Both Sprint and T-Mobile have similar one day pass for $15 for 100MB, seven-day pass for $25 for 200MB and two-week pass for $50 for 500MB.
Both Sprint and T-Mobile offers unlimited free texting during international roaming.
Both Sprint and T-Mobile charges voice calls at the rate of $0.20 per minutes during visiting countries falling their International roaming plans.
Sprint customers can also make unlimited voice calls back to US through its Wi-Fi calling feature in more than 200 countries and territories. Sprint's Wi-Fi calling is available on the iPhone 6, 6 Plus, 5s, 5c and select Android devices at no additional charge. Similarly T-Mobile also offer free unlimited Wi-Fi voice calls back to US.
US's largest carrier Verizon offers International roaming plans for a charge, it's customer have to pay additional $40 for a month for 100MB and 100 voice minutes covering 147 countries.
AT&T charges an additional $30 per month which offers 120 MB of data, unlimited texting and $1 per voice minute in 167 countries.
Looking at the above, no one can beat the T-Mobile's plan for International roamers.
Category: World Telecom
I have always been a fan of writing and love to share information on latest technologies, mobiles, gadgets and social media. Sharing and acquiring knowledge is a boon, do let's share as well as acquire it. I am very much fond of Coffee.