Idea is promoting its Easy Share plan on Television as well as on all other media. Actually Idea's Easy Share plans are exclusive designed and priced for sharing and Idea lets you actually transfer the Internet data from one mobile to another mobile number. Similarly Airtel's Family Share service (It is not the myFamily Plan) also allows their preapaid customer to share data from the Owner's data pack.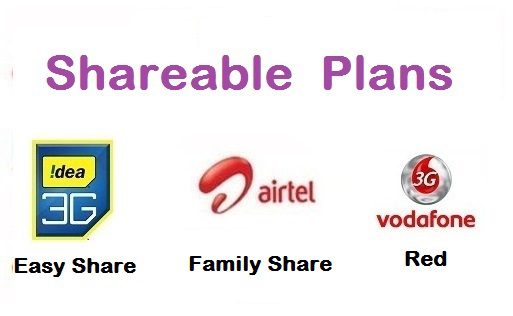 Let us compare Idea EasyShare Plans with Airtel's Family Share service.
1.      Airtel allows its prepaid customers to share their 3G/4G data packs and it doesn't allow to share 2G data packs while Idea allows to share 2G/3G data packs, Idea have launched its 4G services in 75 towns in 4 Telecom service areas of Andhra Pradesh & Telangana, Karnataka, Kerala and Tamil Nadu but Idea customers can't share their 4G data.
2.      Airtel allows sharing data among maximum 5 members i.e. one customer can add four other members and then they can share data pack of the owner. Airtel users can share regular data allowance from a regular data packs like Airtel's 1GB data pack costs Rs 259 or 2GB data pack costs Rs 459 in Delhi while Idea have exclusive Easy share plans which are basically combo plans, bundled with talk, SMS and data.
Idea offers to actually transfer the data in segment of 100MB, 150MB and 250MB to another Idea number at nominal fee of Rs1, 2 and 3 respectively. Idea user can also transfer talk time as well SMS from these combo Easy Share plan while Airtel allows to share data only.
3.      Idea's Easy share plan starts Rs 158 to Rs 958 for prepaid users. The details are given in below table.

Idea have Easy Share plan for both prepaid and postpaid plan customers while Airtel's Family Share plan is for prepaid only. For Airtel's postpaid customers, Airtel offers myPlan for Family.
Airtel's myPlan Family Postpaid Plans has three plans with monthly rental of Rs 799, Rs 999 and Rs 1599. Customers can design their postpaid plan by selecting free packs. Customers can choose 35, 50 and 90 free myPacks in Rs 799, Rs 999 and Rs 1599 plans respectively.
Airtel has seven types of free packs like 135MB 3G data, 250MB 2G data, 100 min local, 75 min STD, 200 SMS, International calling 5 min, outgoing roaming 40 min. Customers. Customers can choose any one of them once or more times. Airtel allows to add up to 5 members with additional rental of Rs 99 and they can share the freebies of the main plan.
Vodafone also has postpaid RED plans for monthly rental of Rs 699, Rs 899, Rs 1299 and Rs 1599 for sharing data, talktime and SMSs from the bundled freebies of these plans. It allows addition of new member up to maximum 5 with additional cost of Rs 99.
Idea allows its Easy Share post paid plan customers to add up to 9 members with extra cost of Rs 99.
All these three operators also offer unlimited free calling within the group members. A comparative table is shown below.

Out of all three above operators, Idea is the only one which allows you to actually transfer the data otherwise remaining two operator allows to share data from main account of owner.
Category: Call Rates, Data Usage
I have always been a fan of writing and love to share information on latest technologies, mobiles, gadgets and social media. Sharing and acquiring knowledge is a boon, do let's share as well as acquire it. I am very much fond of Coffee.