If we use Internet for surfing, browsing, checking emails,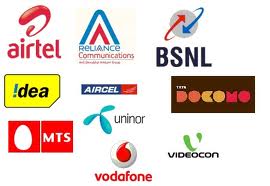 chatting on social media etc, normally data consumed is around 20 MB per hour so in a typical case,  if we consider that we will use Internet for 4 hours a day then total consumption of data per month is 2.4 GB.
So if we take a data voucher of 5 GB then, I hope that would be sufficient for an addict of Internet. Let us examine that how much we have to pay for this much of data usage of different mobile operators.
Mobile Operator
Prepaid connection
Validity
Postpaid connection
Duration
BSNL
Rs 599 for 7GB data (3 GB in day time and 4GB in night)

Rs 750 for 5GB data
30 days
Rs 670 for 5GB data
Rs 700 for 6GB data
Monthly
MTNL
Rs 650 for 5GB data
30 days
Rs 650 for 5GB data
Monthly
Airtel
Rs 740 for 4GB and after this 3p/10kbps
30 days
Not available
Aircel
Rs 697 for 5GB in select states only
30 days
Not available
Idea
Rs 749 for 4GB and after that 2p/10kbps
30 days
Rs 750 for 5GB and after that 0.5p/10kbps
Monthly
MTS
Rs 501 for 6GB
30 days
Rs 749 for 5GB and after that free usage at speed of 144Kbps
Monthly
Reliance Communication
Rs 800 for 5GB
30 days
Rs 750 for 5GB
Monthly
Tata DoCoMo
Rs 450 for 2GB and after that 10p/10kbps
30 days
Rs 1001 for 5GB
Monthly
Vodafone
Rs 450 for 2GB and after that 10p/10kbps
30 days
Rs 850 for 5GB
Monthly
So based on above we may now decide judiciously our mobile operator and can control expenses on our data usage.
Category: Data Usage
I have always been a fan of writing and love to share information on latest technologies, mobiles, gadgets and social media. Sharing and acquiring knowledge is a boon, do let's share as well as acquire it. I am very much fond of Coffee.