With the launch of 4G services in UK by Vodafone and O2 on 29 August, the customers of London, Bradford and Leeds will have an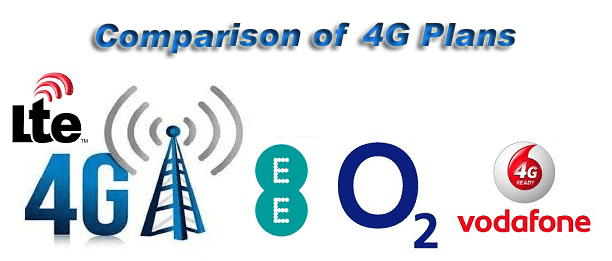 option to choose among the existing 4G operator EE or they may be attracted to new plans revealed by Vodafone and O2. Vodafone is launching 4G service in London and O2 in London, Bradford and Leeds. We now have the details of all the 4G plans of all these three operators and let us compare these 4G plans so that we may select the best 4G plan as per our need.
First of all let us see what the existing 4G operator EE have in the basket.
4G Plan of EE starts from £21 a month for 500 MB of data and higher 4G Plans are getting cheaper and EE has the highest plan of £61 a month for 20 GB. EE is the right now the only operator which have 4G Plan offering 20GB a month. All 4G plans of 2GB and above also include 'EE Film' two for one cinema tickets on a Wednesday, as well as access to music streaming service Deezer on a mobile device. All plans include unlimited talk and texting.
Vodafone has revealed 4G Plans starting at £21 a month for 1GB of data and the highest plan has 8GB data allowance for £36. The Vodafone is also offering free 750 MB of Wi-Fi data with each 4G plans and free access for 6 months to Spotify Premium or Sky Sports TV mobile. All plans include unlimited talk and texting.
O2 has also announced 4G Plans starting from 1GB of data allowances along with unlimited talk and text for £26 a month, like Vodafone, O2 also have highest plan of 8GB for £36 per month. O2 also offers free 12 month subscription to O2 Tracks-a cross-platform music streaming app for the Official UK Top 40 – as well as Priority Sports videos and exclusive, online multiplayer gaming without consumption of user's monthly data allowance.
A quick look on 4G Plans of EE, Vodafone and O2.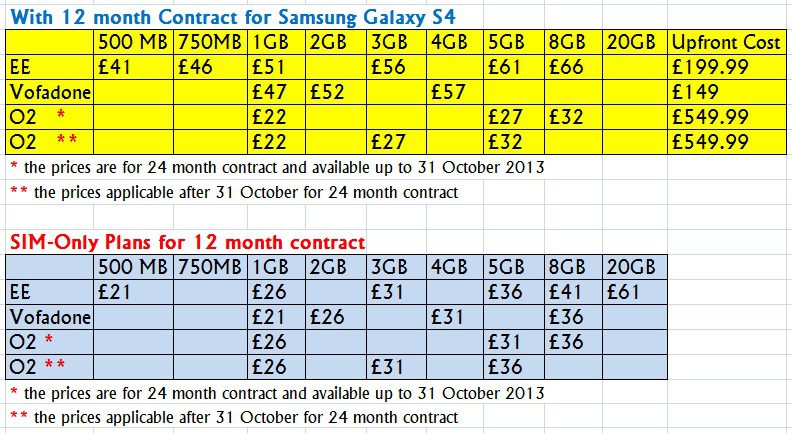 All these 4G plans include unlimited talk and text.
From above it is clear that for low data user, Vodafone is the best option and user can opt for 2GB data plan for £26 per month, others offers 1GB data in this price range.
For high data user, Vodafone has 4G plan of 8GB at attractive price of £36 per month, because O2 also has same plan with same price but that price are valid up to 31 October only. For maximum data savvy, it is obvious, EE is the only option because only EE has data plan of 20GB for £61 per month
Category: Call Rates, Data Usage, World Telecom
I have always been a fan of writing and love to share information on latest technologies, mobiles, gadgets and social media. Sharing and acquiring knowledge is a boon, do let's share as well as acquire it. I am very much fond of Coffee.