The fastest growing 4G LTE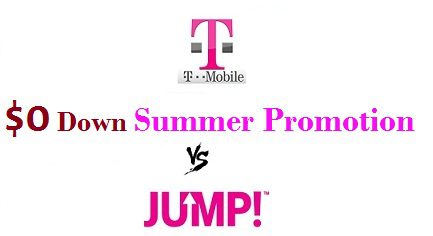 carrier T-Mobile introduced a new innovative and attractive "summer promotion" on July 27 after its recent "Jump" Program. The carrier is offering latest smartphones under this summer promotion plan for $0 down payment. But which plan give more benefit, let us do some math. We take example of Samsung Galaxy S4 smartphone, if we take this device under this new summer promotion or Jump program, how much we have to pay, see the below table.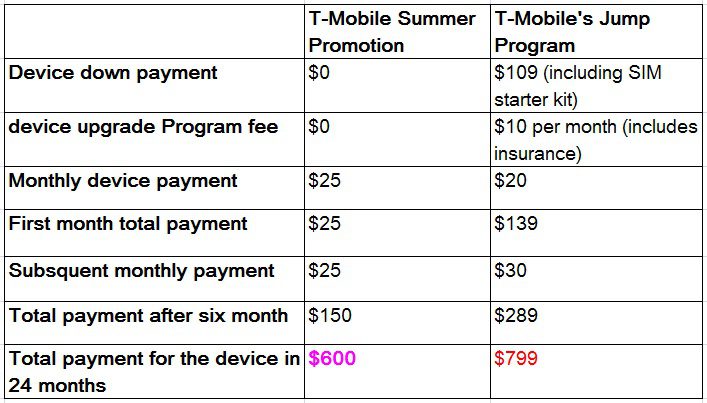 It is clear from the table that t-Mobile's new limited time summer promotion offers you to be the owner of latest smartphone at zero dollar down payments. Although the monthly device payment ($25 per month) is more than Jump's $20 per month but in long run, it is more beneficial to the customer.
The table also clearly shows that customer who will subscribe to new summer program, they will pay $600 for their favorite device S4 in 24 months while in the Jump program, they have to pay $799 (If they don't upgrade their existing device in 24 months) for the same device S4.
With the ground zero down payment, you can also enjoy the cheapest plan of $70 which offers you unlimited talk, text and data usage at 4G speed on LTE network. No other carrier in America is having such a fantastic plan.
Category: Call Rates, Data Usage
I have always been a fan of writing and love to share information on latest technologies, mobiles, gadgets and social media. Sharing and acquiring knowledge is a boon, do let's share as well as acquire it. I am very much fond of Coffee.