Have you updated your WhatsApp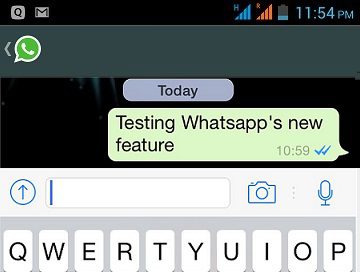 from old version 2.11.378 on Android to its new version 2.11.431 ?
The new update of Facebook-owned WhatsApp have a new feature by which you can see that the message which you have shared with your friends or loved one, have seen it or not and the exact time when they have seen it.
The new feature "Seen at…." is available on WhatsApp messenger across all mobile platforms. Whenever you send a message on WhatsApp, a Single grey tick on that message means the message has been sent and a double grey tick means it has been delivered. But now the new feature will show you two blue ticks which mean it has been read.
By pressing and holding an individual message will show you Message Info option which further reveals the precise time that particular message was read. So now onwards it will be hard you to ignore or avoid WhatsApp messages from your dear ones. Because they can catch you on your lies.
In a group chat, the second ticks will appear only when all participants in the group have received the message and these two tick will turn blue when all participants in the group have read the post.
Message Info option in the group will reveal the time each member of the group read the message.
Category: Applications
I have always been a fan of writing and love to share information on latest technologies, mobiles, gadgets and social media. Sharing and acquiring knowledge is a boon, do let's share as well as acquire it. I am very much fond of Coffee.