If you think the e-mail sent by you , should not be deleted

by other end or not to be further forwarded, you can control it now with BSNL's new e-mail service which has been launched by BSNL today at Jaipur.
BSNL's new email XGen personal and enterprise is designed and developed by in partnership with IT firm Data Infosys and it has more than 100 features.
One of its most powerful features is Rights Management, which empowers the sender to control actions of deleting, forwarding, replying and printing of the e-mail by the recipient.
Other features includes.
One Time Password: this will help to get password on the registered mobile number
Security: you can block SPAM emails and you can also detect any snooper through IP based security, last login IP, last unsuccessful IP, date and time.
IP based user login restriction: by invoking this feature, you can avoid hacking of your account by others. You can set a range of IPs from where you can log-in your account and no one will be able to log in your account from external IP range.
Black listing and white listing: you can set blacklist of email Ids from which all emails will be rejected permanently and you can also put some e-mail Ids from where you want all email to be accepted permanently.
SMX/FAX Facility: this additional feature enables to send SMS and FAX from your e-mail box, you can also receive SMS alters and notifications.
Image galary: this feature helps to search image in emails.
All the 7.5 million BSNL broadband subscribers across the country would be able to avail new features in their existing e-mail service xyz@bsnl.co.in.
Below is the screenshot where you can set advance options while composting mail.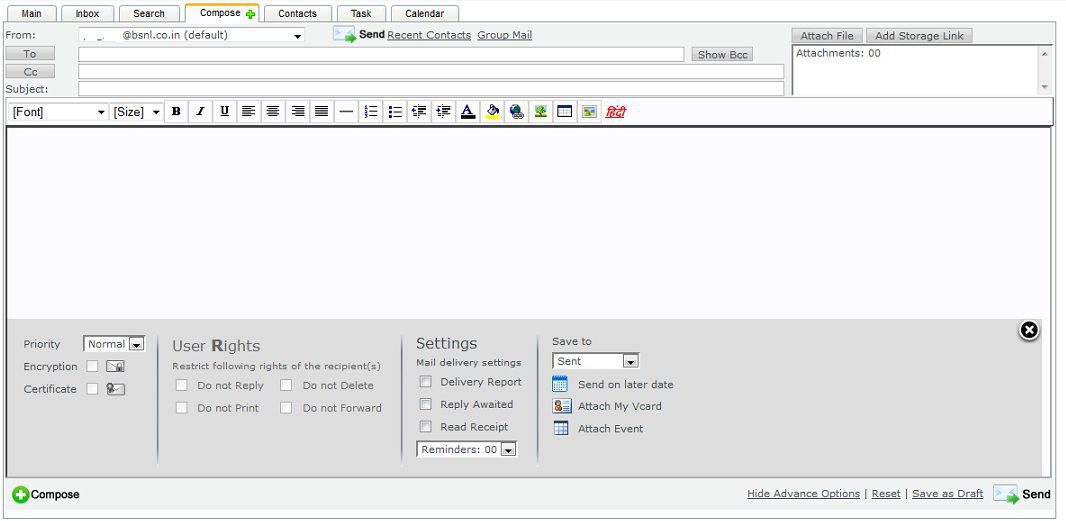 New non-BSNL customers may also avail new features by taking e-mail service from www.Securedmail.in, Non BSNL customer may click here for further information
Category: Applications
I have always been a fan of writing and love to share information on latest technologies, mobiles, gadgets and social media. Sharing and acquiring knowledge is a boon, do let's share as well as acquire it. I am very much fond of Coffee.