When you come to know about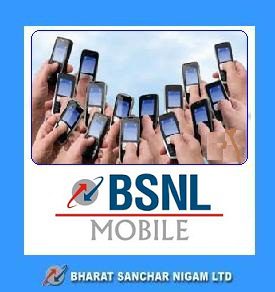 withdrawal of any tariff plan of BSNL ? Most of you come across, when they visit BSNL office and inquire about tariff plans but in most of the cases, you get the reply of existing tariff plans only, which are popular and are being offered to customers. BSNL releases press note for new tariff plans but it doesn't advertise the plans, which are withdrawn.
BSNL, today announced that few combo vouchers for prepaid customers and some postpaid plans for 2G/3G voice as well as data plans for tablets will be withdrawn from 11-11-2013
After rationalizing 2G/3G data plans, Special tablets postpaid plans of FMC of Rs 680 and Rs 900 were looking redundant and BSNL have decided to withdrawn these postpaid plans as shown in screenshot. Now tablet users may go for similar 3G Post paid data plan of FMC of Rs 666, which will allow you 7GB of data usage, a saving on your earlier plan with increased data of 1GB. Those customers who were using 10GB post paid data plan, they will get same data of 10GB with same 3G postpaid data plan of FMC Rs 901.
BSNL is also to withdraw Special combo postpaid plans of FMC of Rs 300, Rs 500, Rs 1000, Rs 2000 as detailed shown in below screenshot but these special combo plans are continue for prepaid customer, if existing postpaid customers of these plan want to enjoy these bundled freebies, they may switch to prepaid plans .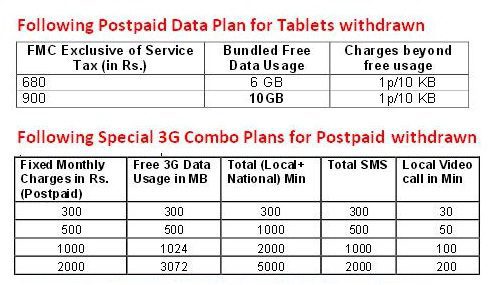 BSNL is also to withdrawn Combo plan of Rs 101 for 2G prepaid customers which has bundled freebies of 1GB of 2G data and reduced call rate of 30p/min and 50p/min as shown in below screenshot. BSNL is having 1GB data plan for prepaid customer for Rs 139 only.
One more voucher "All feature combo plan" priced Rs 22 for prepaid customer is also to be withdrawn as shown in below screenshot. If you love 25MB data usage of this voucher, now you may recharge by a 3G Data STV of Rs 17 which offers 100MB of 3G data.
All the above combo vouchers and postpaid plans will not be available from 11-11-2013
You may now plan to continue to get required freebies as per above info, you may also go for some odd combination of existing STVs which fulfill your need of telecom services within your budget.
Do you think, this info helped you !! leave your opinion in comments below.
Category: Data Usage
I have always been a fan of writing and love to share information on latest technologies, mobiles, gadgets and social media. Sharing and acquiring knowledge is a boon, do let's share as well as acquire it. I am very much fond of Coffee.