Voice messaging is famous in foreign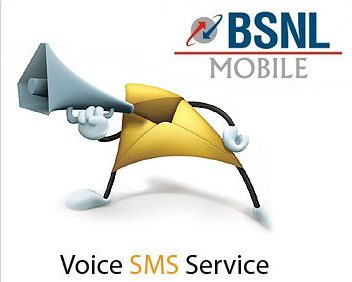 countries but it is not so popular in India. Indians are more inclined to leave an typed SMS rather than leaving a voice message. Sending a typed SMS has its own limitations. For some users it is extremely difficult and they hate to type the SMS and send it but Voice SMS is very convenient, you just have to record the message and send it, Voice SMS also contains your emotions and feeling.
BSNL is introducing Voice SMS service for its all Prepaid GSM Customers and this service will be available from 10 September-2013 in all circles across India.
The tariff of voice SMS service is fixed 75p/min for Sending, Replying, Forwarding and Retrieving in Home circle or during National Roaming. It means the the Receiver of Voice SMS has also to pay to listen the Voice SMS.
BSNL is already having this Voice SMS service for its all CDMA customer and the charges for sender is same i.e 75p/min for Sending, Replying and forwarding the Voice SMS. The receiver of Voice SMS has to pay 60p/min for retrieval of voice SMS.
You can also send Voice SMS free of cost by using apps on your smartphone. A number of apps are available on Google play store. Just select one of then, download on your smartphone and enjoy free Voice Messaging.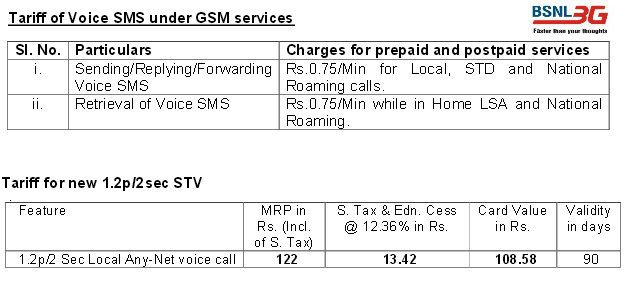 BSNL is also introducing a new Special Tariff Voucher (STV) for making local voice calls on any network at the rate of 1.2 paise per two seconds.
BSNL's this New STV is priced at Rs.122 with validity of 90 Days. The price of STV may vary +/- Rs 5 in circle so you may check its price before recharging with it.
This new STV will be available for all Prepaid 2G and 3G customers of BSNL in all circles across India from 9th September, 2013.
Category: Call Rates
I have always been a fan of writing and love to share information on latest technologies, mobiles, gadgets and social media. Sharing and acquiring knowledge is a boon, do let's share as well as acquire it. I am very much fond of Coffee.