BSNL have variety of services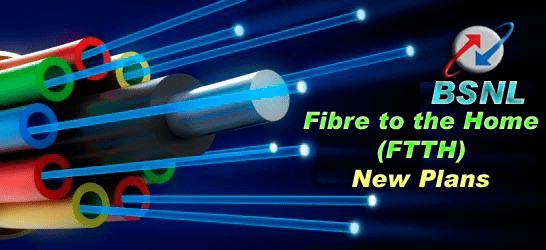 to offer to Indian customer and Fibre to the Home (FTTH) is one of them. FTTH is a unique technology deployed by BSNL for high speed broadband from 256 Kbps to 100 Mbps, IPTV having different type of contents like HDTV and future coming 3D TV and range of Voice telephony services. BSNL provide FTTH connection at the premises of the customer in the similar way as it provides Landline Broadband connections.
The difference is that Landline broadband is provided on the Copper wire of your existing telephone line and a ADSL modem is installed but for the FTTH connection, BSNL lay Fibre cable up to your premises and broadband connection is provided by installing CPE called Home Optical Network Termination (HONT).
Due to lack of sincere efforts of the company and poor marketing strategy, FTTH services are not so popular but you will wonder that this FTTH service can trills you by its ultra-fast speed up to 100 Mbps. This is the speed at which Airtel is offering 4G services.
BSNL have 7 unlimited plans and three limited usage plans but now due to its high tariffs and poor popularity, BSNL is closing all these 10 plans of FTTH from 1 September-2013 and is introducing four new plans, which are basically reformulated FTTH plans as per fair usage policy but are heavily discounted up to 80%.
New FTTH plans starts from fixed monthly(FMC) charges of Rs 3999 for unlimited plan, you will get download speed upto 10Mbps up to 50GB of data usage and thereafter the speed reduces to 512 Kbps. At present the plan which offer 10Mbps speed for unlimited use of data is priced FMC Rs 13999.
The highest FTTH plan offer your download speed 100Mbps, practically equivalent to 4G speed, for the FMC of Rs 16999 only, which is discounted by 80% as compared to existing plan. At present this speed is being experienced in the Plan of FMC of Rs 83999.
New FTTH Plans effective from 1 September-2013.

These FTTH plans are closing for new subscription from 1 September-2013.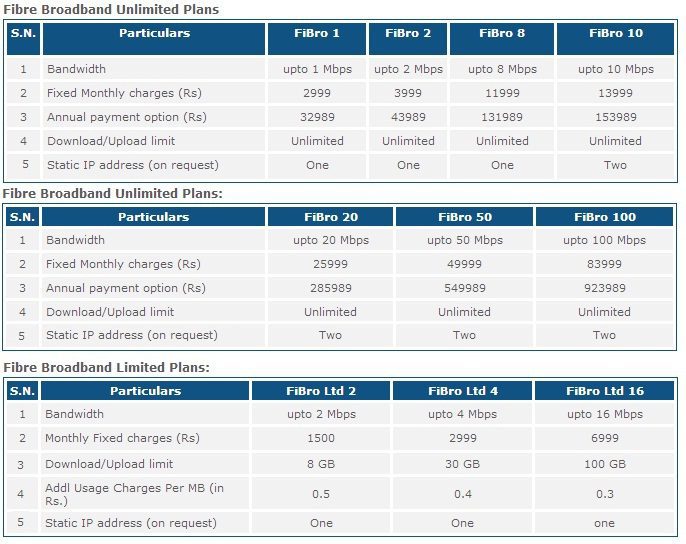 Now you can also see that how much new plans are discounted.
With comparison to other FTTH Operators of India, Tata DoCoMo  has FTTH Plans and its 100Mbps plan is priced monthly rent of Rs 6666. The company is also offering free premium tablet with this plan for more details please click here.
Airtel's FTTH plan for the speed of 100Mbps fetches monthly rent of Rs 5299.
Category: Broadband
I have always been a fan of writing and love to share information on latest technologies, mobiles, gadgets and social media. Sharing and acquiring knowledge is a boon, do let's share as well as acquire it. I am very much fond of Coffee.