BSNL have entered into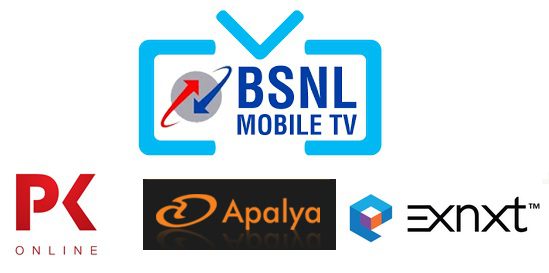 agreement with two more Mobile TV providers, Exnxt and Apalaya. They will provide live TV Channels to the BSNL Mobile customers.
BSNL, in partnership with Exnxt, is to launch a Special Data STV of Rs 81, which will offer 500 MB free data usage and you could also watch all the TV Channels provided by Exnxt free for 15 days on your mobile phone, see the exclusive screenshot below.

BSNL is also launching Special Data STV of Rs 165 which will offer 1GB free data usage and in addition to this, you could also watch more than 50 TV Channels provided by Apalaya for 30 days, see the exclusive screenshot below. Right now Apalaya is not providing content of any Sports TV channel.

These two Special Data STV will be available from 18-11-2013 across the country.
After enjoying free channel  for 30 days, Apalaya has  "All Channel" package for Rs 150 per month. Apalaya has also partnership with all leading mobile operator of India viz. Airtel, Aircel, Idea, Tata DoCoMo, Vodafone, MTNL, RCOM and MTS and is providing feed of live TV to customers of all these operators. It is offering "All Channel" package for Rs 150 per month to all customers of all these mobile operators.
Soon, BSNL customers will start to receive SMSs from BSNL/Exnxt/Apalaya.
Recently BSNL had already launched, in partnership with PK Online Ventures Pvt Ltd, one Special data STV for mobile TV for Rs 291 which allows you 2GB of free data usage along with watching 30 TV Channels provided by PK Online  for 30 days. Click here for details.
Watching TV Channel on Mobile phone also consume data from your data plan.
Without these freebies, BSNL have 1GB of 3G Data plan for prepaid customers for Rs 139.  Postpaid customers can add Add-On of Rs 125 to avail 1GB data usage free. 2GB of 3G data STV cost Rs 251.
Category: Data Usage
I have always been a fan of writing and love to share information on latest technologies, mobiles, gadgets and social media. Sharing and acquiring knowledge is a boon, do let's share as well as acquire it. I am very much fond of Coffee.