BSNL customers has facility to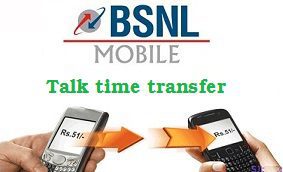 transfer talk-time from their prepaid phone to another prepaid phone by GIFTing service for which, customer have to register and then send a SMS of long string but now BSNL is all set to launch new way of talk time transfer service on SMS/USSD which is more convenient, user friendly and easy to use.
The talk time transfer service on USSD (unstructured supplementary service data) is one of the most promising modes, presently used for mobile banking.
Services based on USSD creates a real time connection and allows user a two-way exchange of data by a menu driven instructions while for SMS based services, you have to send SMS every time for each instructions.
BSNL has entered in an agreement with VAS providers who will soon offer talk-time transfer service on USSD. The service will also have some caps like, a user will be allowed to transfer talk time only five times in a month and in each transaction, user can transfer max talk time of Rs 100 only. BSNL will also levy service charge which may be @10% of the transferred talk-time subject to minimum of Rs 3 per transaction.
At present BSNL user can transfer talk-time through Gift service by the following easy steps.
Donor number have to register by sending "register ptop" to toll free number 54455, in response to this, the donor number will receive following message "Dear subscriber, registration for ptop is successful" Password is "ABCDEF".
After registering, the donor can now transfer talk time from his/her account by sending following string "Gift <recipient mobile number> <talk time value> <Password>" to 54456.
Let us understand it by live example. If a donor receive password 123456 during registration and want to transfer talk time of Rs 50 from his/her account (it must be ensured that balance must be more than transferring talk time value) to a mobile number of 9414xxxxxx , then donor have to send following SMS to 54456.
"Gift 9414xxxxxx 50 123456"
If donor don't have adequate balance then he/her will receive following message, "Request rejected due to inadequate balance in your mobile. Please Recharge/ Topup and then send transfer request"
Conditions for Talk Value Transfer Service through Gifting Service.

Amount between Rs.10 and Rs.200 but in multiples of Rs.10 is allowed to talk value transfer per transaction.
Service charges @ 10% of talk-value to be transferred, subject to a minimum of Rs.3 per transaction, will additionally be deducted from the talk value of donor account.
Category: Call Rates, How to
I have always been a fan of writing and love to share information on latest technologies, mobiles, gadgets and social media. Sharing and acquiring knowledge is a boon, do let's share as well as acquire it. I am very much fond of Coffee.