BSNL has surrendered one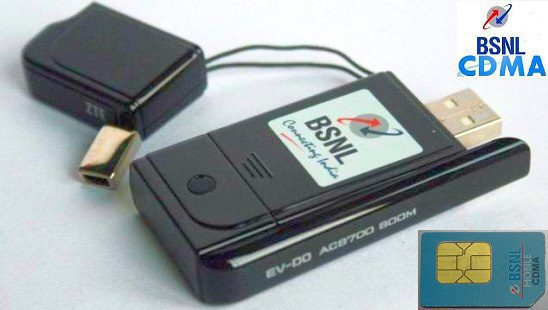 800 Mhz CDMA carrier in Aandhra Pradesh, Punjab and Haryana circles resulting their CDMA customers may not be able to continue with their EVDO data services so to ease them, BSNL has decided to offer GSM data services as per following in these affected circles:-
All the affected prepaid or postpaid CDMA EVDO customers can get USB Type 3G Data Card (Dongle) of 3.6 Mbps from nearby BSNL CSC for absolutely free of cost if they surrender their EVDO data card at CSC
Postpaid EVDO Customers are being offered a promotional postpaid data plan with Fixed Monthly Charges (FMC) of Rs.750 in which they will get whopping 10 GB of 3G data for free with validity for six months. After the initial period of 6 months, the customers will be given the option to migrate to any of the existing regular data plan of his choice.
Prepaid EVDO Customers may choose any GSM data Plan/STVs, BSNL offers 90MB to 20GB data plan at affordable prices.
If customers want to retain their existing 10 digit CDMA Mobile Number then such affected customers may be migrated through MNP.
BSNL is generous in offering GSM data plan to their EVDO data card customers !!
Category: Data Usage
I have always been a fan of writing and love to share information on latest technologies, mobiles, gadgets and social media. Sharing and acquiring knowledge is a boon, do let's share as well as acquire it. I am very much fond of Coffee.