The public sector Telecom major, BSNL has launched "Free to Home Service" for its all Mobile Customers to receive their mobile calls on their BSNL landline phones at just free of cost while at home or in office as per their convenience.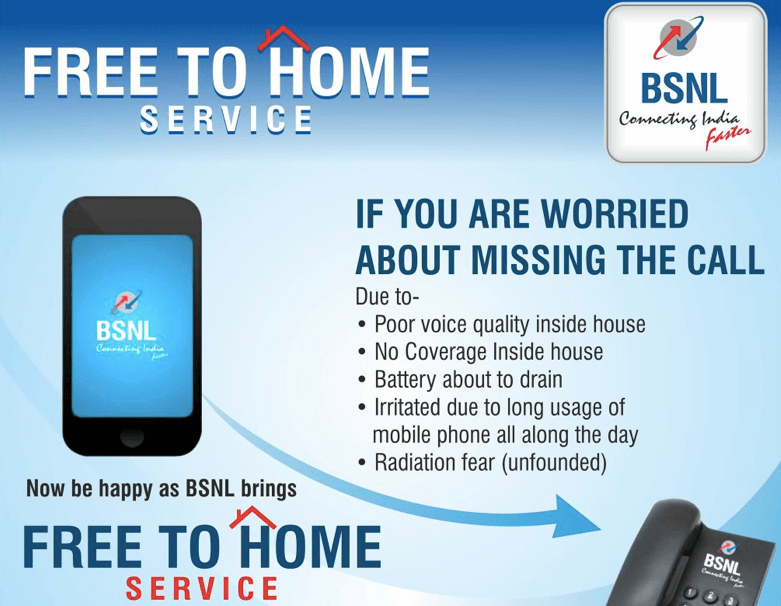 The announcement to this effect was made by Shri Ravi Shankar Prasad, Hon'ble MOC & lT in a press conference on 30-05-2016. Briefing the media persons about the achievements of his ministry during the last 2 years, he praised the outstanding performance of BSNL for adding highest number of mobile connections and also for earning good revenue.
As per press release to media, BSNL has explained The "Free to Home Service" which facilitate its Mobile Customers to receive 'crystal clear voice calls' on their landlines without worrying the quality and strength of Mobile Signals inside buildings. Many a times one tends to get irritated by daylong use of mobile phones. This is an ideal solution for forwarding the mobile call to their BSNL landline numbers and moreover it costs nothing, it is just  free.
Further explaining Free to Home service  which is basically Call diversion facility from mobile to fixed line within LSA(License Service Area), and customers can also avail this facility even outside LSA but they will get this facility free of cost within LSA only. If they will divert calls to a landline which is outside their home LSA, then applicable call charges will apply.
Many options are available for customers for diverting calls from mobile to BSNL landline like.
Always divert
Call diversion when busy.
Call diversion in case the handset is turned off or has not coverage
Call diversion for not responding
The customers may use any option as per their need and convenience. On this occasion the Director (CM) BSNL Board Shri R.K.Mittal said "We are committed to provide the best services to our customers"
Below screenshot explain the procedure to use the Free to Home service.

Category: Call Rates
I have always been a fan of writing and love to share information on latest technologies, mobiles, gadgets and social media. Sharing and acquiring knowledge is a boon, do let's share as well as acquire it. I am very much fond of Coffee.