Bharat Sanchar Nigam Limited (BSNL)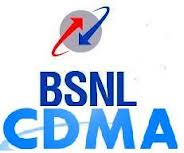 launched an exclusive CDMA Joy plan of Rs 85 for CDMA Prepaid customers as promotional basis for South Zone only starting from 1 Nov-2013. The CDMA Joy plan is so designed that it offers cheaper call rates and bundled freebies more than its price.
The Joy plan is priced for Rs 85 which include RUIM and also offer freebies of 250 min local calls on-net and 50MB of data usage, to be used within 30 days. The Joy plan have validity of 180 days.
The Joy plan allows cheaper call rate of 1p for 2sec on on-net calls while 1p/sec for off-net calls. Other details are given in below exclusive screenshot.
CDMA Joy Prepaid Plan Tariff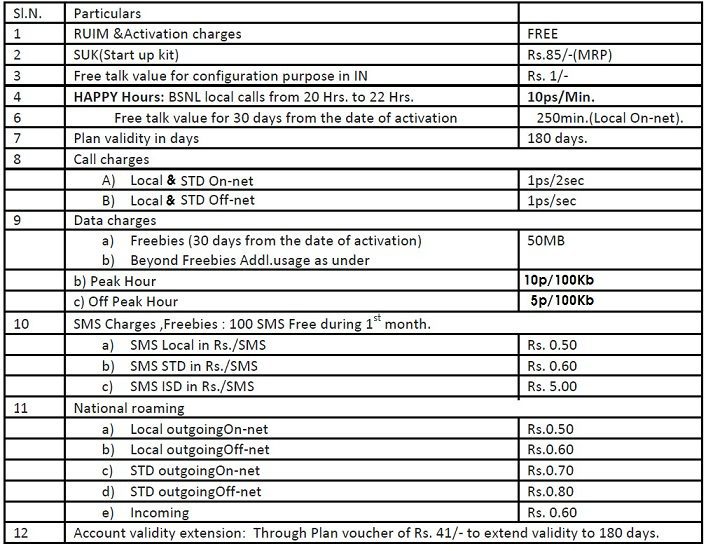 An exclusive plan voucher of Rs 41 is also launched for CDMA Joy plan. This plan voucher can be used to extend the validity of Joy plan for next 180 days as well as this voucher offer freebies of 3000 sec of voice calls on on-net and 15 MB of data, to be used within 30 days.

BSNL also launched two special STVs as detailed below for prepaid CDMA EVDO data card users of south zone only wherein it offered more data usage in less price, STV of Rs 200 offers 2GB and STV of Rs 399 offers 5GB of data. These STVs, which are 60% discounted for South zone as compared to other part of the country, are launched as promotional basis, effective from 1 Nov-2013.
BSNL is also offering 20% discount on sale price of EVDO data cards for customers of South Zone only, if purchased form BSNL CSCs. The sale price of EVDO data card is Rs 1199.
BSNL have regular STV for CDMA EVDO prepaid users across the country wherein BSNL offer 1GB of data for the price of Rs 250 and unlimited data usage for Rs 750 per month.
Category: Data Usage
I have always been a fan of writing and love to share information on latest technologies, mobiles, gadgets and social media. Sharing and acquiring knowledge is a boon, do let's share as well as acquire it. I am very much fond of Coffee.